Commercial Flood Burst Pipes
A 10,000 square foot building sustained water damage from burst pipes when temperatures dropped. Tenants had just moved out and the building was up for sale. The damage impacted the office areas as well as warehouse. Abbotts provided Insurance Claim Management services, coordinating directly with the insurance company in addition to typical restoration services like mitigation, cleanup, plumbing repair and reconstruction.
Leveraging industry-standard Xactimate estimating software, Abbotts provides a transparent and chronicled history of customers and projects. Every item performed on a project is listed in detail and agreed upon by customers and stakeholders. Xactimate estimates are supported with detailed time-stamped job notes, pictures and associated documents. Negotiating the chaos and complexity of disaster restoration.
Commercial Restoration Process
The first order of business is to stop the source of flooding and get the water out!  In this case we'll bring plumbers in to repair the copper lines. We use state-of-the-art tools like moisture meters to ensure we identify the scope of the water damage as well as the latest in water extraction equipment to accelerate the restoration. Abbotts has a rich, specialized blend of assets to facilitate efficient service delivery. We take particular pride in our specialized fleet of emergency response vehicles which have truck mounted water extraction units and are equipped for emergency flood response due to burst pipes.
Once the water is sufficiently extracted, we setup the drying system. The use of moisture reading sensors is critical during the dry-out. Even though a wall or floor can feel dry to the touch, there can be high levels of moisture trapped in the walls and the flooring materials. In the fight against the production of mold spores, moisture meters provide a quick, accurate and non-invasive way to read moisture levels.
Extracting water from your property can be a daunting, dirty and dangerous task without specialized equipment. The costs for tools and materials such as towels, sponges, boots, protective clothing, respirators, cleaning supplies, pumps and ventilation fans can quickly mount, costing you hundreds of dollars from the start. And the expense will grow along with hazardous mold if your efforts fail to thoroughly remove the moisture.
Trash and debris like damaged ceiling tiles, carpet and drywall must also be removed. Structure and contents are thoroughly decontaminated, cleaned and sanitized. Abbotts restoration professionals are equipped with the right knowledge and the proper equipment to clean up after water damage.  Specialized content restoration staff perform detailed and exhaustive room-by-room inventory.   If contents cannot be dried on-site, we carefully pack everything up and transport it to our warehouse where it is inspected. Non-salvageable items are documented for insurance reimbursement; salvageable items are cleaned and restored. We securely store contents in our warehouse until structural restoration is completed. Then we carefully transport them back to you and unpack them.
As experts in damage restoration we know all the little things that can easily be missed or overlooked – and they can really add up! Our extensive experience working with insurance companies on behalf of property owners ensures that your restoration is fast and seamless. Throughout the process we are coordinating with your insurance company, providing detailed documentation and photos.
The final phase is to get the damaged areas put back together as quickly as possible. From carpet replacement to drywall and painting, from hardwood floor restoration to furniture restoration, our team of professionals does it all. We work with closely with you and your insurance company to get you back to normal as quickly as possible. Finally, your satisfaction is guaranteed. We stand behind our work with a one year warranty.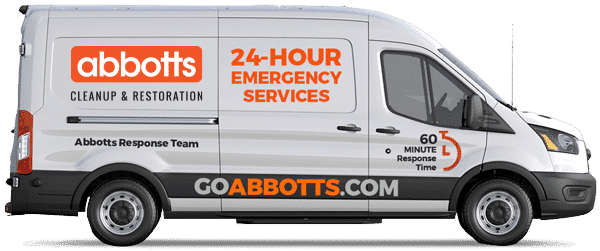 Need expert help? Abbotts is standing by 24/7!