HOW THE RESTORATION PROCESS WORKS
We will bill your insurance company directly. The only out-of-pocket expense is the amount of your deductible.
Phase 1: 24 Hour Emergency Response
Crews arrive on-site and inspect your property to develop a mitigation plan.  Before the work begins, you will review and sign a work authorization and pay your deductible.  Once we have your authorization, we will begin the Emergency Mitigation.  Our goal is to minimize the damage to your home or business.  As an insurance policy holder, you have a responsibility for ensuring the damage does not spread and stopping the damage before it gets worse.  For a "covered loss" your insurance will likely cover all the work except your deductible.
Phase 2: Damage Mitigation
Once a plan is developed, resources and personnel are deployed to mitigate damage, specifically board-up & securing, water & sewage extraction, packing and moving of contents, installation of drying and dehumidification equipment, debris cleanup, as well as disinfectant / sanitizer application as needed to comply with applicable regulations, protocols and best practices.  Our crews monitor the moisture levels. Once your property is dried out, the drying equipment is removed.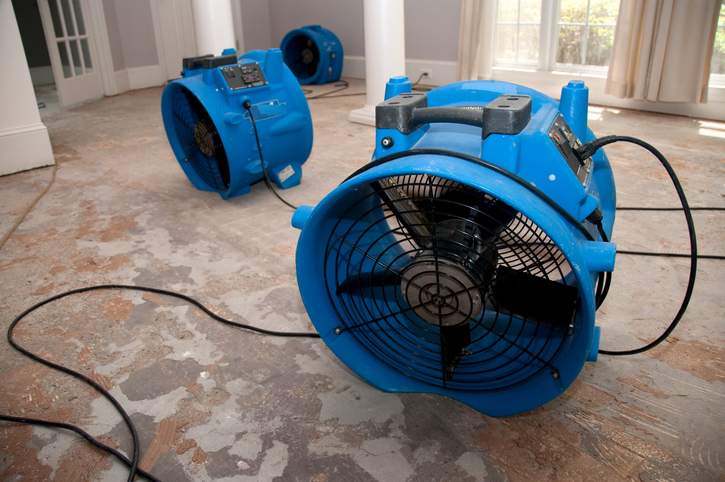 Depending on the extent of water damage, the drying process can take from three to five days.
If your adjuster schedules time to visit your property to conduct a damage assessment, please contact our office so we can be there as well.  This will streamline your restoration process.
Phase 3: Estimate Preparation
Depending on the amount of damage to your property, an estimator may be required to inspect your property.  They will document the extent of the damage and prepare an estimate for your insurance company for the mitigation portion of your loss.  A reconstruction estimate may be prepared for the work necessary to return your property to a pre-loss condition.
We can best serve you by working directly with your insurance adjuster to understand the specifics of your insurance policy coverage. We use industry-approved Xactimate software to develop our estimates – the same software used by insurance companies – and provide detailed supporting documentation like sketches and measurements and pictures.
Phase 4:  Claims Management
We work with you and your insurance company to come to agreement about how much it will cost to get your home or business back to a pre-loss condition. This stage there is a lot going on in the background. It can sometimes seem like the process is stalled. Rest assured we want to return your home or business to a pre-loss condition. There are many variables to be considered and agreed upon between Abbotts, you and your insurance company.
Once agreement has been reached, a deposit must be made for the reconstruction work. Then we can schedule the right craftsman and purchase the supplies necessary to get you back to normal.
Phase 6: Project Completion
Upon completion of your project, we will present you with a Certification of Completion to sign and return to us. If, for some reason, there is an element of our work with which you are not satisfied, note it on the form when return it. We will get it resolved ASAP!
We submit your Certificate of Completion with the original estimate and our invoice so that your insurance company can release the final payment. If there is work you requested that is not covered by your insurance, we will invoice you at this time. Payment is due and payable upon receipt of the invoice.
If you are not completely satisfied, for any reason, we welcome the opportunity to make it right. We're not happy until you're happy!