When to Restore vs. Replace Belongings
After a fire or flood, you will have to make a lot of decisions about your property and possessions very quickly. Time is of the essence, as damage from both water and smoke/ash gets worse very quickly, so you will need to be prepared to decide whether to opt for content restoration or to replace items.
Thankfully, water and fire damage content restoration is far more advanced than most people are aware. Items from furniture to clothing to family photos that may seem beyond hope can often be restored to pre-loss condition. However, it is impossible for an untrained person to detect the difference between what can and cannot be restored, as well as know what is and is not financially worth restoring.
For more detailed answers to your questions, check out our Youtube channel and our Property Rescue Series.
Potential Hazards
It is important to note that both fires and flooding can create hazardous conditions, even after the seeming danger has passed. Of course, never re-enter your property before the proper authorities give you the "okay," and be sure to contact your electric company or a trained electrician to ensure you're safe. Wear protective gear if necessary.
Beyond these more obvious hazards, however, lurk potential problems silently growing on or inside of your possessions. Mold is, of course, a major problem after flooding. Mold can begin to grow within 48 hours, which is why time is of the essence when dealing with this situation.
Additionally, if your flooding was caused by water that was not clear and clean, you could be dealing with a whole host of potential biohazards. In that case, it is absolutely imperative that you reach out to professionals to make sure you and your family remain safe. Some items may be salvageable even when they have been contaminated, but only by professionals, and only a professional will know how to make that call.
The main hazards left behind by a fire are the acids produced by smoke and soot. This can be corrosive to electronics, and the acids can be dangerous if they remain in soft items, such as upholstered furniture and clothing.
Because of these hazards, it is important to have a professional fire and water restoration company consult with you and determine what is and is not salvageable. Techniques exist to remove harmful contaminants, and a restoration professional will know whether these techniques will be sufficient and cost-effective on an item-to-item basis.
Cost to Replace vs. Restore
For most items, restoration is less expensive than replacement. In fact, some insurance policies will actually only cover restoration if it is possible and does not cost more than the item is worth. It is easy to see the damage and immediately assume that the best answer is throwing everything out and starting over, but this could eat up a lot of money and time, when restoration could have brought the items back to their original condition.
As you may imagine, the more porous an item, the more difficult it is to clean, and some items such as mattresses and upholstered furniture may end up simply needing replaced. A qualified restoration company will be able to provide an estimate for all possible restoration, and you can make the final call from there.
Heirlooms and Sentimental Objects
Of course, for some items, the value lies not in its monetary worth, but is sentimental. For these items, your restoration company will work to get the items back to their pre-loss condition, as the cost to "replace" the item is not really part of the equation.
Sadly, your insurance provider may not see your heirlooms and treasured possessions as worth what you do, but a quality restoration company like Abbotts will work with you to bring these items back to life.
Photograph and Document Restoration
Photograph and document restoration after a flood or fire is also possible, in the right hands. It can be costly, with document restoration running between $50 and $150 per cubic foot of paper, and the cost of photograph restoration varying widely, dependent upon the level of damage. However, documents, photographs, film, negatives, books, and much more can be restored, and your restoration specialist will be able to provide you with an estimate for any of these items that you wish to save.
The decision of whether to replace or restore items after a disaster is often partly practical and partly sentimental. Of course your insurance company will not value the quilt your great aunt handed down to you in the same way you do, but you will want to restore some of these items, nonetheless. And then there will be a number of items that you will be shocked to find cost much less to restore than they would to replace, and some will be just the opposite.
The only way to know for sure is to consult a professional fire and water damage restoration company as soon as possible. Remember that the clock is ticking, and as soon as you and your family are safe and your basic needs are met, this should be your first call.
At Abbotts, our third-generation restoration contractors understand how the value of your precious possessions. We would be honored to help you bring your home and belongings back to their pre-loss condition.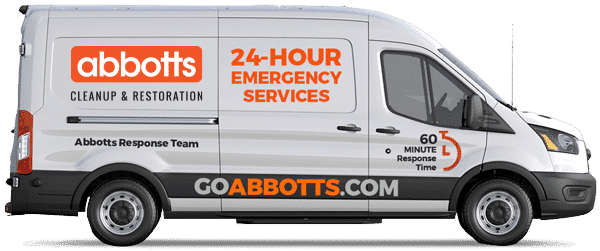 Need expert help? Abbotts is standing by 24/7!