Record-Breaking Temperatures May Mean a Longer Fire Season in Colorado
In the past, Colorado's fire season was April through July. More recently, the fire season has stretched to November, and sometimes beyond that. The intensity of a fire season is dependent upon various factors. Colorado's 2018 fire season was especially active, due to an extended drought, higher temperatures and low humidity. A wetter winter and busy monsoon season help to reduce fires. But record-breaking temperatures, such as those that Colorado cities experienced in September of 2019, increases the risk. The effects of climate change, which makes wet regions wetter and dry regions drier, exacerbates the risk of wildfires in certain locations.
In this article, you'll learn why wildfires are becoming more prevalent, how to recognize hidden fire dangers and how your family can plan for a fire emergency. We'll also explain the importance of immediate fire damage cleanup and tell you where to find the most knowledgeable fire damage restoration service in the Denver, Colorado area.
Can high temperatures cause spontaneous fire?
Periods of extreme heat can worsen drought conditions, and this heat and dryness can create the ideal conditions for wildfires. In 2018, Colorado had a historically dry winter,  which then led to an extremely active year for fires in the state. Rising temperatures due in part to climate change made the situation worse. The hotter the temperature, the larger the fires. The Union of Concerned Scientists reports that wildfires have been on the rise, due to human activities, natural cycles and climate change. And they predict that as the planet gets warmer, wildfires will continue to increase.
To keep a wildfire from spreading, there may be a controlled burn. This was once was a common fire prevention strategy, though in the past century, land management has instead focused on fire suppression. Prescribed fires may become more common again, as states like Colorado struggle to get control over increasingly large wildfires.
What Are the Hidden Dangers of Fires on Health and Property?
Whether it's a prescribed fire or an unexpected wildfire, fires take a toll on human health and property. This isn't only in the predictable ways. Where there is fire there is also smoke. The smoke that results from wildfires can be as damaging as the fire itself, especially because it cannot always be seen.
Contaminants can cause adverse health impacts. The Centers for Disease Control and Prevention (CDC) explains potential dangers from wildfire smoke, which is a toxic mixture of various gases and fine particles from burning trees and plant materials. It can hurt your eyes and irritate your respiratory system. Smoke from wildfires, even if the fire is miles away from your location, can also worsen chronic conditions, like lung and heart disease.
People who are at the greatest risk include those with existing lung disease, heart disease or asthma, plus older adults and children.
To minimize this risk:
Check your local air quality report
Refer to your local visibility guide (measures the particles in the air; available in some communities)
Keep indoor air clean with air conditioners and filters
Avoid activities that increase indoor pollution, like burning candles
Use a respirator, rather than a simple dust mask (which doesn't protect from smoke particles)
Wear protection when cleaning up after a fire
As for your house and furnishings, wildfire smoke odor can seep into walls, ceilings and fabrics. Acidic smoke residue can accelerate erosion of a home's structure as well as its contents. In addition to an unpleasant smell that permeates everything, flames and smoke from forest fires can:
Discolor fabrics such as clothing, rugs, carpets and upholstery
Damage furniture, depending on the material
Damage and yellow walls, due to heat transfer and smoke
Discolor or warp windows
Contaminate and harm plants and soil
Crack concrete due to prolonged heat exposure or dryness
Damage the roof, due to burning embers from a nearby fire
What's more, soot from a fire begins to settle on items in your home immediately. In a few hours, everything that has been exposed to flames and smoke will begin to show the effects. Metal will start to corrode and rust, while wood surfaces will require refinishing. If left for weeks, the restoration process becomes more extensive. Therefore, it's crucial to contact a fire damage restoration service right away, once your home has been damaged by a fire.
Abbotts Fire Damage Restoration Service
If your home has experienced damage due to a fire, call Abbotts. We offer 24-hour emergency services, and our fire damage restoration experts work directly with insurance adjusters to assess your damage and restore your home quickly. It is essential to start fire damage cleanup immediately, but it's also important to do it right, as certain post-fire cleanup can cause further damage. We have the knowledge and experience, plus the right equipment, to correctly perform full fire damage restoration.
Our fire damage restoration services include:
24/7 emergency response
Boarding up and securing
Water extraction and drying
Fire damage cleanup, demolition and salvage
Content cleaning; content moving and storage
Decontamination and odor control
Smoke damage repair
Property reconstruction and property restoration
Insurance claim management
Lifetime smoke odor warranty
Learn about the importance of removing smoke odor after a fire in this Abbotts Fire and Flood Restoration video: Removing Smoke Odor After a Fire.
What is Your Plan in the Event of Active Fires in Your Area?
Do you and your family have an action plan in the event of a fire in your location? Homeland Security's Ready.gov website provides a Four Step Plan for families so they can be better prepared for an unexpected disaster.
Step 1 – Put together your family's emergency plan. Make sure that you know: 1) How you'll get emergency warnings and alerts. Wireless Emergency Alerts are available through the Integrated Public Alert & Warning System (IPAWS); 2) Your evacuation route; 3) The shelter your family will use; and 4) How your family will communicate with each other.
Step 2 – Consider the specific needs of everyone in your household. This will include communication, caring for children, business issues, pets and operation of home medical equipment. Factors may include medical and dietary needs, disabilities, languages used and cultural or religious considerations.
Step 3 – Fill out your family's emergency plan. FEMA provides a downloadable Emergency Plan for Parents.
Step 4 – Practice this plan with your family or household.
Reclaim Your Home After a Fire
With the valuable information in this article, you're now better prepared for a fire emergency. However, if you do experience fire and smoke damage in your home, call the professionals at Abbotts. We deliver fast service and guaranteed fire damage restoration so that you can reclaim your home.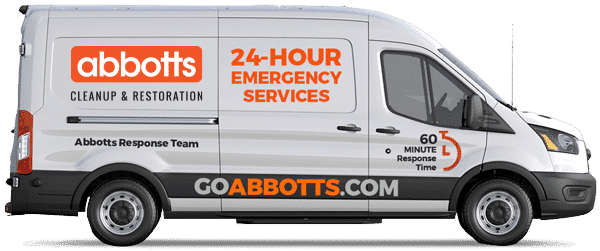 Need expert help? Abbotts is standing by 24/7!