Fall Cleanup Prevents Water and Mold Damage
Labor Day is the unofficial end of summer. As days get cooler, thoughts turn to baking pumpkin pie and watching football. Autumn also means that it is time to get your home ready for winter. Most people wait too long and run the risk of property damage. Follow these tips for fall cleanup to avoid water and mold damage.
1. Clean out debris.
Fallen leaves and weeds can mask problems that could allow water to seep into your home. Standing water can quickly turn into a mold problem. Leaves and weeds could allow the damage to go unnoticed.
2. Clean out the gutters.
Gutters are designed to do one thing — channel water away from the foundation — and they're critical to protecting the structural integrity of your house. But in order for gutters to do their job properly, they have to be kept in shape and free of clogs, holes, and sags. Luckily, most common gutter problems are easy to fix. And it's worth the effort! "Gutters are one of those things where routine maintenance and inspecting them can really prevent bigger problems down the road," says Jason Stutzman, director of home maintenance and repair for Brothers Redevelopment in Denver.
·   Clogged gutters are very common. Left untended, gutters and downspouts get so clogged with debris that they are, essentially, useless. Gutters should be cleaned out at least once per year; twice per year if you have a lot of trees nearby. If you have chronically clogged gutters, you might want to install gutter covers – mesh screens, clip-on grates, or porous foam. They still need regular maintenance, though.
·   Leaky gutter joints can be sealed by caulking the joint from the inside with gutter sealant. A tube costs about $5. Very small holes can be filled with gutter sealant. Larger holes will require a patch.
·   Ensure that downspouts extend several feet away from the house, or they'll dump right into the basement. If necessary, attach gutter extensions to the bottom of the downspout to discharge water well beyond the foundation. They're inexpensive and easy to install.
3. Dry everything out.
Preparing your lawn sprinkler system for winter is critical to prevent costly water damage to your home. Winter temperatures cause water remaining in your sprinkler system to turn to ice. The expanding pressure of the ice causes pipes and fittings to burst and valves to crack. Water discharged from a burst pipe or valve can be substantial, saturating soil in and around the building foundation. Moisture seeping into the house can cause mold and other damage.  Even if you have drained the water out of your irrigation system, some water remains and can freeze, expand, and crack piping. Freezing water in the backflow assembly will damage the internal components and can crack the brass body.  To minimize the risk of freeze damage, be sure to winterize your irrigation system.
·  Prepare your outdoor sprinkler systems for winter by expelling ALL of the water from the irrigation system and equipment
·  Disconnect hoses from outside spigots
4. Identify Risks
Close out your fall cleanup considering the colder temperatures.
Insulate exterior water faucets.
Check crawl spaces for uninsulated pipes, especially near external walls.
Look for holes in external walls where phone lines, cable lines and other services enter building. These holes can let cold air into the walls, resulting in frozen pipes. Plug holes with caulk or other commercially available materials for this purpose.
Ensure proper operation of basement sump pumps.
If your home or business has fallen victim to water, fire, mold, or any other type of damage, it's important that you act quickly and effectively. The professionals at Abbotts Fire & Flood have the know-how and equipment to get the job done right so that the interruption of your daily lives is as brief as possible. Contact us today!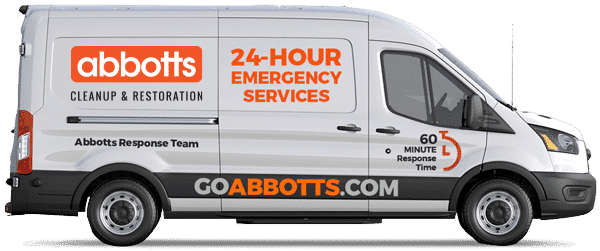 Need expert help? Abbotts is standing by 24/7!