Are Your Holiday Guests Staying in Your Basement? Double Check Fire and Water Hotspots
If your home has a finished basement, there's a good chance that a relative or friend will be staying down there over the holidays, whether it's for a day, a week, or even longer. This typically won't cause any issues, but since the basement often goes unused on a regular basis, it's best to ensure that you're protected from fire and water damage. We want you to remain safe, so here are some quick tips to help you get through the holidays:
Watch For Basement Fire Hazards
You certainly don't want a fire to break out and ruin your festivities and the endanger your guests, so we've compiled a few items that you should check before allowing anyone to stay over:
Gas Furnace or Water Heater — These items often don't get checked over the holidays because there's too much going on and they get pushed back on the "to-do" list. The important thing here is to make sure that the burner access doors are closed, which will prevent flame roll-out.
Extension Cords — Since families typically don't spend a lot of time in the basement, extension cords are more likely to be used in certain areas. This is especially common with washing machines and dryers. Be sure that these items, along with everything else, have been plugged directly into a wall socket.
Cluttered Stairs — You might be surprised at how basements, even finished ones, are treated in certain households. If you have clutter on the stairs, this creates a safety hazard in the event of a fire or other emergency. Remove any clutter right away.
Old Outlets — If you haven't used an outlet for a while, you need to make sure that none of them present fire hazards. Test each one to make sure they're all operational and, whenever possible, avoid the use of power strips as an extra precaution.
Smoke Alarm — Basements should always be equipped with a smoke alarm. If yours is not, be sure to install one before you have any guests stay over. If there's one already in there, run a system check to make sure it's still operational and consider replacing the battery just to be safe. For added protection and peace of mind, install a combination smoke alarm and carbon monoxide detector.
Watch For Basement Water Issues
Fire safety is important, but it's much more likely that water damage could occur while a guest is staying in your basement. Here are a few things to check before, during, and after the visit:
Cracks in the Foundation — You should check for cracks on a regular basis to prevent water damage year-round. If you find any problem areas, either fix them yourself or call on the help of a professional.
Bathroom Fixtures — Before someone arrives for the holiday to stay with you, check to make sure that the faucets, bathtub, and shower are all in good working order. If anything is dripping or leaking, get them fixed immediately.
Pooled Water — Let's face it… some guests don't clean up after themselves very well. This includes leaving pooled water around the tub or sink. During and after the visit, check these areas and wipe up any water that's been left behind so as to avoid mold and mildew.
Washing Machine Hose — While you would probably notice any problem with the hose connected to the washing machine in your basement long before the holidays, it doesn't hurt to take the take the time to check it. If there's a problem, replace the hose immediately.
Check For Spills — There are a lot of clumsy or careless people in the world and your basement guest might just be one of them. The holidays are rife with food or drink and a spilled soda or alcoholic beverage can cause damage to your carpet and other areas. Keep a watchful eye and clean up any spills right away.
No matter how safe you try to be throughout the holidays, accidents do happen. If you've experienced any fire, water, or other damage to your home, please reach out to the experts at Abbotts Fire & Flood. We will evaluate any damage and restore your home back to its original condition. And from all of us here, please have a safe and wonderful holiday!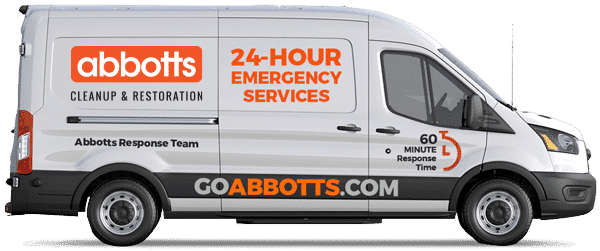 Need expert help? Abbotts is standing by 24/7!