Is Your Property Ready for Monsoon Season?
In Denver this week we're looking at at least the next 5 days filled with severe thunderstorms and showers. This could just be the beginning.
The National Oceanic and Atmospheric Administration predicts a 65 percent chance that El Niño weather conditions will develop this season. Climatologists expect higher than normal monsoon season rainfall as the summer unfolds. Meanwhile, snow is still melting, considering the May snowfall.
Suddenly, the West seems pretty wet for a dry climate. That can mean trouble for homes with clogged gutters and downspouts, leaky basements, aging sump pumps and other moisture-related problems.
As the wet season gets under way, take time to look around your home or business and make sure that features designed to handle water and protect structures are in good working condition. Clean out rain gutters and downspouts, and make sure you add extensions to carry gutter water at least five feet away from foundations.
If you've had moisture problems in your basement in the past, consider installing a French drain to allow water to run out to the alley or street. After rains, feel basement carpeting and padding around the perimeter for moisture. If you feel moisture, consider calling Abbotts or a free moisture test. In many cases, we recommend that damp materials be treated with antimicrobials.
Make sure that you service sump pumps. Use a scratch pad to clean sump pump floats and ensure that they don't stick.
Moisture problems can result in potentially health threatening mold. If you know or suspect that you have a mold problem, Abbotts can run tests to find out, then eradicate it, fix its cause and make sure it doesn't return.
Make sure you have a safety plan in the event of flooding, and consider these safety tips:
Know the difference between a flood watch and a flood warning. A watch means flooding is possible. A warning means flooding is occurring or will occur soon.
Pack a go-bag with important items and medications in case you have to evacuate.
If told to evacuate your home, do so immediately.
Turn off utilities to your property if flooding is imminent.
Do not walk through moving water. It is stronger than you realize.
Do not drive on flooded roads. You can't tell if they are washed out.
Do not operate or touch electrical appliances or equipment when wet or standing in water.
Check community reports to find out whether the water supply is safe.
Avoid flood water, which can be contaminated with toxic and biological material or electrically charged from downed power lines.
Listen for news reports to learn whether the community's water supply is safe to drink.
Return to your property only after authorities say it's safe.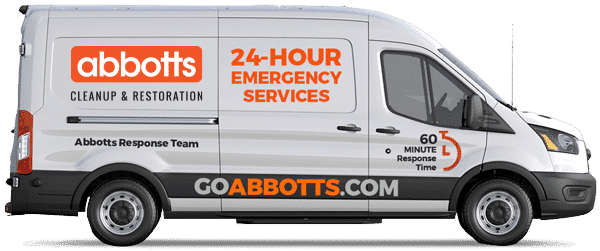 Need expert help? Abbotts is standing by 24/7!