Pasquini's Pizzeria Fire
The morning of Friday, December 6, 2016, a  fire broke out at Pasquini's Pizzeria, the popular eatery and local landmark on South Broadway that has been serving fresh American Italian food for more than 25 years.  The fire broke out about 7 a.m. and flames could be seen shooting out of the roof. Fortunately, no one was inside the building at the time of the fire. The fire caused extensive damage to the second floor of the building and water used to extinguish the fire damaged both floors.
Abbotts crews were on-site by 9am to help the Pasquini family navigate the complexities of the fire damage restoration and quickly re-open. December is a particularly important time of year for local restaurants as families stop off for a quick bite while doing their Christmas shopping.
We worked with the Pasquini family, their employees and insurance company as well as local building department, health department, and fire department to develop a plan that protected public and allowed Pasquini's to open their doors. We brought in engineers, plumbers, electricians, and technology to execute the plan. In the end, we combined two kitchens into one so they could fulfill catering commitments and serve their retail customers.
Pasquini's posted this message on its Facebook page:
As you may have heard ,there was a very unfortunate accident that occurred early this morning here at Pasquini's, Luckily no one was injured and the fire was contained only to the original side leaving the newer addition to the restaurant undamaged . We are confident that we will have a fully functional kitchen with our full menu by Saturday evening. We would like to thank everyone for all their support throughout the years and everyone that has helped us through this unfortunate time. If you love or have loved Pasquini's in the past, please come show you support so future generations can enjoy the same food you have all grown to love.
Thank you.
Abbotts Fire & Flood owner, Travis Chancey, recorded this video of the aftermath and insight into the restoration efforts: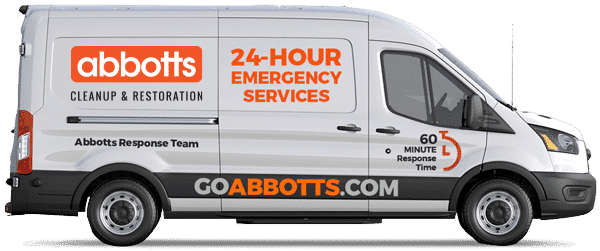 Need expert help? Abbotts is standing by 24/7!