Quick Tips on Reducing Water Damage Claims
Water damage is a serious problem that can disrupt your life, create major stress, damage your valuables, and cost you a lot of money. Each year, thousands of Coloradans file water damage claims – and they aren't cheap. Don't become yet another victim of water damage. The following tips will help you mitigate risk and protect your home.
Toilets
Did you know that leaking or faulty toilets can lead to damages totaling as much as $2000 to $10,000 per incident? These household necessities can create huge nightmares for homeowners, but you can reduce your risk for suffering from water damage by inspecting your supply line and your toilet's flushing mechanism regularly (experts usually recommend every six months), and by making sure that the connection to the valve is secure. In the event that the toilet or tank starts to overflow, you should immediately turn water off at the supply valve.
Washing Machines
One of the worst things that can happen to your washing machine is a burst water supply line, and this type of incident accounts for about half of all problems with washing machines. On average, homeowners end up spending approximately $6000 to take care of damages. In order to reduce your risk of dealing with this type of headache, we recommend that you turn off all supply valves when they're not in use by the washing machine, and you should avoid running your washer when your home is unoccupied. Leaving a gap between the back of the machine and a wall can also help prevent the hose from kinking near the valve connection and causing problems. If you've got plastic hoses, you might consider switching to reinforced braided stainless steel hoses for more protection.
Sinks
Water damage from kitchen and bathroom sinks can be extremely costly, and the majority of incidents related to sinks are attributed to faulty supply lines. The plumbing beneath each of your sinks should be inspected every six months in order to ensure that all connections are secure and that corrosion isn't present. You should also locate the water shut-off valve in case of emergency.
Hoses and Sprinkler Systems
A large number of water damage claims in Colorado come from homes where the garden hose or sprinkler system caused flooding. This can happen due to ruptured sprinkler pipes, burst sprinklers, leaking hoses, and carelessly forgetting to turn the hose off. It's important to have your irrigation system inspected at regular intervals to prevent problems before they have the opportunity to start. Make sure that your hose is not left in bent or kinked positions that can weaken its integrity, and always double check that the hose is turned off.
Roof Leaks
A leaky roof is a major problem and is cited as being one of the leading causes of water damage to homes. Because leaky roofs are more prevalent in areas that are subject to freezing weather and high winds, Colorado homeowners frequently notice leaks in their roofs. Even a small drip can create a huge headache and financial nightmare for you and your loved ones. Don't just put a bucket beneath the source of water. Instead, have your roof inspected regularly and hire a professional to repair any damages right away. The longer you put off repairs, the larger the leak will grow, and the more money you'll have to spend on repairs for roofing and water damage.
Knowing the areas of your home that are at-risk and understanding what steps can be taken to mitigate those risks can go a long way in reducing water damage claims. If you or a loved one have experienced water damage inside of your home, the pros at Abbotts Fire & Flood can help. Call us for more information.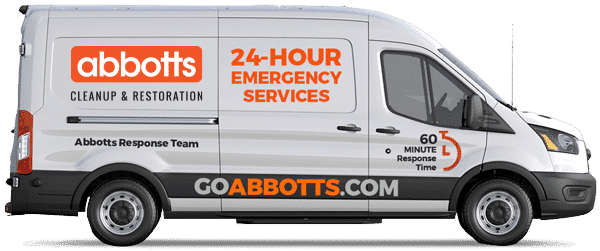 Need expert help? Abbotts is standing by 24/7!