Summer Vacation Tips to Avoid Water Damage
The very worst time for water damage to occur is when you're away from home. After all, what could be worse than coming home from a relaxing summer vacation only to find that your home has been flooded, or otherwise severely damaged by water? Unfortunately, this happens more often than you might think. In fact, the Insurance Information Institute has reported that the second most common insurance claim filed by homeowners is water damage to the home. Whether it's from ruptured washing machine hoses, water heater drips, leaky supply lines, or a busted pipe, the consequences are disastrous. To avoid catastrophe while you're on vacation this summer, here are a few tips that will help to protect your home.
Complete a Thorough Check Prior to Leaving
Before you depart for your summer trip, be sure to take the time to inspect your home for any leaks. Check out all of the pipes under your kitchen and bathroom sinks, examine your water heater for any cracks or rust, make sure that windows and doors are properly sealed, and look out for any signs of roof leaks. Don't forget to also evaluate any hoses that connect to major household appliances like dishwashers, washing machines, and refrigerators to ensure that they aren't leaking or showing signs of severe wear.
Clean Your Gutters and Downspouts
Clogged up rain gutters and downspouts can result in pooling water on your roof, and eventually to major leaks and severe water damage. Spending just a little bit of time on removing the debris from these areas can prevent major problems down the road. You should also make sure that your downspouts are discharging the proper distance away from your house (a minimum of 10 feet) to prevent flooding.
Replace Supply Lines
It's smart to check out your supply lines and swap out any plastic lines for stainless steel. It's a really cheap fix (typically less than $20 to make the switch) and will reduce the risk of leaks, both while you're at home and when you're away.
Ask Someone to Check In On Your Home
If you're going to be away for several days to several weeks, it's wise to ask a trusted friend or neighbor to look in on things around your house while you're gone. Having someone housesit or visit your home once a day will ensure that any leaks that do occur will be caught and stopped before they can cause major damage.
Turn Off the Main Water Valve
If you can't get anyone to look after your house, your best bet is to shut off the water supply to your home at the main valve. If you've never done this before, make sure to test it out before you leave by attempting to turn on a faucet.
Shut Off Water Supply Valves
Sometimes, you might not be able to shut off your main water valve because you have an automatic sprinkler system or have asked someone to water your plants while you're away. Even so, you can shut off the water supply to the most frequent culprits of water damage, such as toilets, ice makers, washing machines, etc. These appliances will all feature individual stops (shutoff valves) on their supply lines. Simply turn the valve clockwise to stop water flow.
Test the Sump Pump
Homeowners with sump pump systems should test them out prior to vacation to ensure that it will keep groundwater out of the basement. You can put the system to the test by filling up the sump pit with a bucket of water and assessing whether or not it's truly pumping out the water.
Taking the proper precautions can save you a lot of money and grief over the summer months. For more tips on how to prevent water damage during your summer vacation, talk to the pros at Abbotts Fire & Flood.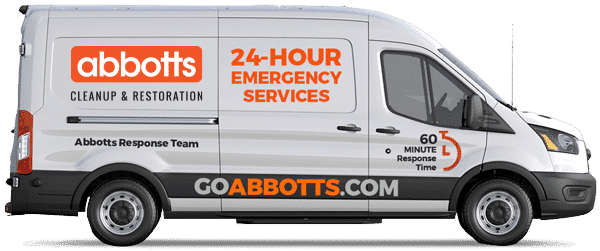 Need expert help? Abbotts is standing by 24/7!