Thermal Imaging
You don't have to tear down a wall to see what's happening behind it!
Thermal Imaging is a unique and powerful tool that is very useful in flood and fire restoration efforts. Thermal imaging cameras reveal a variety of small temperature differences over large or small areas. Simply put, with thermal imaging equipment, Abbotts Fire & Flood can easily determine the source of any problem areas before the repairs begin, saving time, money, and the integrity of the original structures.
  Thermal Imaging allows Abbotts Fire & Flood to:
Locate any trapped water and lingering moisture inside walls and ceilings. Taking care of this issue will prevent mold & mildew from growing.
Find broken or leaking water lines behind your walls. This will ease any larger demolition and repair bills.
Find 'cold spots' inside walls which is linked to damp insulation.
Our expert team is trained to use thermal imaging cameras on a variety of restoration projects to diagnose the true condition of the structure. Using this technology, Abbotts Fire & Flood can quickly and easily identify areas of possible water damage.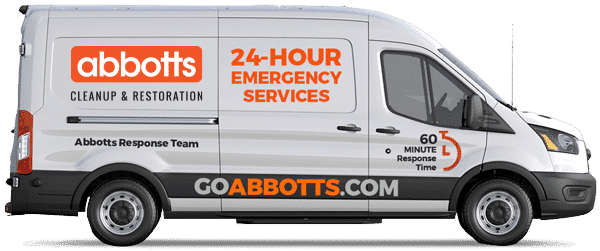 Need expert help? Abbotts is standing by 24/7!