What to Look for in a Biohazard Cleanup Company
You're pretty good at cleaning out a messy garage, tackling your child's untidy playroom, and even conquering a dirty bathroom, but what about hazardous materials? Biohazardous substances and chemicals must be treated with care and precision, and not just anyone is qualified to handle the cleaning process. If the job is not completed properly, the health and safety of you and your family are compromised, putting you at serious risk for illness or even death. So, when should you be looking for a biohazard cleaning specialist, and how can you be sure that they're up to the task? This post will address these questions.
When to Call a Biohazard Cleanup Company
A biohazard cleaning company is not just your run-of-the-mill maid service. Beyond washing the dishes and vacuuming the floors, biohazard specialists are able to rid your property of dangerous pathogens and chemicals in their entirety, leaving your home or business 100% safe for occupation. Here are a few instances in which a biohazard cleanup company is a "must":
Messes related to sewage backups/spillage
Moving into a home or building that has been used for the production of methamphetamine
Discovering asbestos
Crime scene cleanup
After an accident or physical trauma has occurred
Discovering the presence of lead paint
Contamination related to hoarding/filth
What to Look For in a Biohazard Cleanup Company
Once you've determined that a biohazard cleanup crew is necessary in order to take care of your problems, it's time to narrow down your options and choose the right company for the job. The following tips will walk you through the process:
Choose a Company that Specializes in Biohazards and Chemical Waste 
As mentioned previously, you cannot simply call any local cleaning service. These companies may know how to clean up a mess, but they don't know how to rid a space of the airborne and bloodborne pathogens or chemicals that could pose health threats to occupants. Take the time to seek out a cleaning service that knows how to handle these specific contaminants and has experience in the removal of biohazards waste.
Insist on OSHA Compliance 
The best biohazard cleanup services will not only have a vested interest in restoring your property to a safe and normal condition, but also in protecting its employees against the hazards associated with the cleanup process. Before hiring a prospective cleaning agency, make sure that the company adheres to OSHA standards related to bloodborne pathogens, personal protective equipment, hazard communication, asbestos, and lock out - tag out protocols as well as standard worker safety initiatives.
Insist on EPA and State Environmental Agency Compliance 
Hold your biohazard cleanup crew to a high standard for environmental protection and responsibility. Make sure that the company is licensed to handle, transport, and dispose of biohazards waste and/or hazardous chemicals, and that they do so in a way that is in direct compliance with national and state standards.
Reporting and Testing 
Any reputable biohazard cleaning agency will have the ability to produce a detailed report that outlines each step of the cleaning process, photos of the processes used, and any other documentation that a policy holder may need to present to his or her insurance adjuster. After cleaning, they should also be able to test the property for the presence of non-visible but active biowaste materials or hazardous chemicals so that they can guarantee that the area can be deemed safe.
Professionalism
Biohazardous cleanup is often required in sensitive situations. A family may be grieving the loss of a loved one or a homeowner may be embarrassed about the sanitary conditions within the household. Whatever the case may be, the biohazard cleanup company you select should behave in a manner that is courteous, respectful, and professional at all times.
Are you looking for a qualified, honest, and reliable biohazard cleaning service? CLICK HERE or give the professionals at Abbotts Fire & Flood a call at 303-975-4000 today.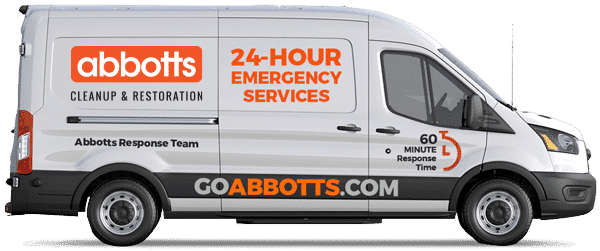 Need expert help? Abbotts is standing by 24/7!