What You Don't Know CAN Hurt You: Professional Testing Detects Hazardous Mold
As if the damage caused by water from flooding or plumbing issues isn't enough, a potentially hazardous problem often follows: mold.
According to the Centers for Disease Control and Prevention, people with asthma, allergies or other breathing conditions may be more sensitive to mold. People with immune suppression (such as people with HIV infection, cancer patients taking chemotherapy and people who have received an organ transplant) are more susceptible to mold infections.
People who are sensitive to mold may experience stuffy nose, irritated eyes, wheezing, or skin irritation. People allergic to mold may have difficulty in breathing and shortness of breath. People with weakened immune systems and with chronic lung diseases, such as obstructive lung disease, may develop mold infections in their lungs.
You may see signs of mold, such as discoloration on walls or ceilings, and you may smell its musty odor. But it can also hide in spaces between walls, in attics and even duct work.
If you know or suspect that you have a mold issue, a mold remediation specialist can inspect and test your property, find mold if you have it and come up with a plan to remove it and prevent its return. Once the mold is gone and it's cause repaired, the mold remediation specialist will conduct a final test to ensure that remediation measures were effective.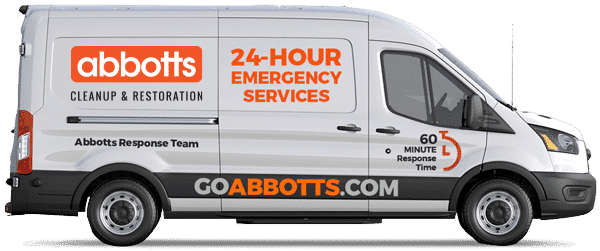 Need expert help? Abbotts is standing by 24/7!