What You Need to Know About Meth Labs in Your Home
The war on drugs has been waging since the 1980s, but the illegal manufacture of methamphetamines continues to be a problem here in Colorado. Because most home buyers and homeowners are not familiar with the drug and its production, many people find themselves buying homes that have been exposed to meth. Whether meth has merely been smoked inside of the home once or the home was used as a meth lab, the harmful chemicals can thoroughly contaminate the home.
Because we've seen a growing number of cases where homes have been used in the production of meth, and because these former meth labs are so hazardous, we've put together this guide to recognizing the signs of meth production and the steps you should take in order to restore the home to safe and healthy living conditions.
The Dangers of Former Meth Labs
The production of meth involves a plethora of chemical substances – all of which are released into the air and absorbed by the home's structural components. In addition to this, if meth was ever smoked inside of the home, even more dangerous chemicals are introduced to the environment. When exposed to these conditions, occupants may find themselves frequently ill or suffering from respiratory problems. Headaches, nausea, eye irritation, and even seizures are possible.
Recognizing the Signs of a Former Meth Lab
If you're like most law-abiding citizens, you have no clue what a meth lab entails and wouldn't know how to tell if meth had been manufactured inside of your home. Fortunately, there are some common telltale signs that will clue you in:
Strong Odors – Always "listen" to your nose. One of the most obvious signs that meth was produced inside of a home is a strong, lingering odor. Ammonia, fertilizer, or sulfur (rotten eggs) are often associated with meth labs.
Concealed Windows – If you bought a home with boarded-up windows or windows that were covered with aluminum foil, it may not be just because the occupants were shy. Meth manufacturers must conceal their every move from the scrutiny of the outside world.
Burn Marks – Burn marks in the home's interior or burnt patches of lawn could indicate that meth was produced in the home.
Odd Features – When you look around your home, does it seem like certain elements, such as ventilation substances, have been jerry-rigged over time? Meth manufacturers may make special tweaks to interior and exterior features to assist with drug production, and they will avoid letting outside professionals into the home to make repairs.
Health – If you or other household occupants find yourselves frequently feeling ill or under the weather, there may be a problem with dangerous chemicals in your home.
What to Do About Former Meth Labs
If you suspect that your home may have been previously used as a meth lab, it's very important that you test the home for the presence of meth. Meth testing kits are easy to purchase and use on your own and will give you fast, accurate answers. If your fears are confirmed, you must take immediate action in order to protect yourself and your loved ones. Never attempt to clean up a former meth lab on your own. The use of certain cleaning agents and chemicals may create very dangerous or hazardous reactions with meth. In addition to this, cleaning up all traces of meth is extremely difficult and you could miss something. It's always in your best interest to seek help from a professional restoration contractor with experience in cleaning up after former meth labs.
The safety of you and your loved ones is a top priority, with the integrity of your home being second. If you believe your home may have been used to produce meth, Abbotts Fire & Flood can help. Give us a call for an evaluation and free consultation today.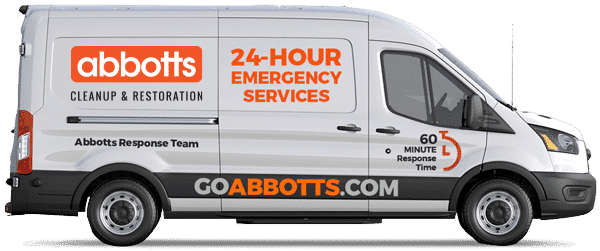 Need expert help? Abbotts is standing by 24/7!