Will Your Homeowner's Policy Cover Water Damage?
Water damages account for a large percentage of home insurance claims each year. Because water damage can come from a number of different sources, it gets classified in various ways and can fall under multiple areas of coverage. As an example, natural flooding is classified as being entirely different from standard water damages, and is thereby covered under separate policies. This can make navigating the claims process a bit tricky, and may even leave you feeling confused about whether or not your homeowner's policy actually covers water damages. This post is designed to help clear things up so that you know what to do in the event that your home succumbs to water damage.
Gradual vs. Sudden Water Damage
Homeowner's policies are typically very clear when it comes to making the distinction between gradual and sudden water damage. Your homeowner's insurance is intended to cover any sudden and unexpected damages to your home. A burst pipe that leads to fast damage is a great example of this. Unfortunately, some types of water damage can remain hidden for quite awhile before it becomes obvious, and this can create conflict with your insurer about whether the cause was sudden or gradual. To protect yourself from issues like these, we recommend routinely checking pipes, ceilings, and walls for signs of water damage so that claims can be filed as quickly as possible.
Secondary Damages
When sudden water damage occurs, there are usually some areas of the home that have obviously been affected and that you will need to include in your claim. In many instances, though, secondary damages may occur that don't actually show up until much later, and this can lead to conflicts with your insurance agency. For example, a tree may have created a hole in your roof and allowed storm water to rush in. Although the roof may have been repaired, the heavily soaked insulations were not taken care of, and the resulting mold could create the need for another claim. In cases like these, your homeowner's policy must serve as the guide to whether or not the secondary damage will be covered. Be sure to familiarize yourself with your policy to know your rights.
Water Damage vs. Flooding
Too many Colorado homeowners make the mistake of believing that natural flooding is covered under their homeowner's policies, but this is typically not the case. The majority of homeowner's policies are designed to cover all types of sudden water damage except for natural flooding. Instead, homeowners must purchase a separate flood insurance policy. It's important, then, to understand how flooding is actually designed. Generally speaking, flood water is considered to be any water from a natural source (such as the river or the sky) that comes into contact with the ground. The technicalities in policies like these are why storm water coming in through a hole in the roof might be covered, but a flooded river washing away a deck or porch is not covered without flood insurance.
Remember to avoid using the word "flood" with your insurer to the best of your ability. While you may look at a basement that is filled with three inches of water from a broken pipe and label the situation as a "flood", describing your basement as "flooded" may send off alarm bells with your insurer. The simple mention of the word "flood" could cause them to deny your claim without a second glance.
If your home has been affected by water damage, it's important to have the extent of the damages assessed right away and to obtain a quote for repairs. This will help you get approval for home restoration from your insurer as quickly as possible. Call Abbotts Fire & Flood for a fast and accurate estimate today.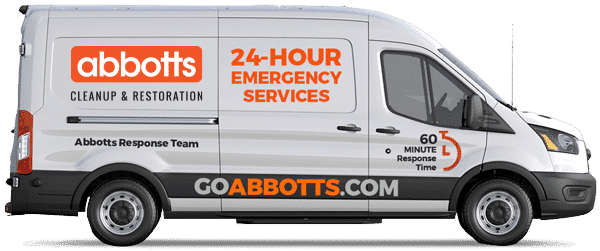 Need expert help? Abbotts is standing by 24/7!