PROPERTY CLEANUP & RESTORATION IN COMMERCE CITY, CO
We help people & property recover.
Mitigation First, Full Service:  Immediate emergency response and everything else you need to get back to normal as quickly and painlessly as possible.

Dependable. Reliable.



We help our neighbors in Commerce City navigate the chaos and complexity of disaster restoration.
Commerce City, Colorado Resources and Information
Home to nearly 65-thousand, Commerce City is a home-rule municipality located in Adams, County, Colorado. Commerce City has over 1400 companies and two oil refineries owned by Suncor. Commerce City is also the home of the Colorado Rapids Major League Soccer Team.
In March 2021, Commerce City closed its government buildings when Colorado experienced the fourth largest snowstorm in Denver history. The Commerce City Chamber of Commerce (4C) was founded as recently as 2015.
Important Numbers
Emergencies: 9-1-1
Commerce City Police Department (non-emergency): 303-288-1535
South Adams County Fire Department (non-emergency): 303-288-0835
South Adams County Water and Sanitation District (Water and Sewer): 303-288-2646
City Manager: (303) 289-3608
When we ask ourselves why we do what we do, it's about the people. Helping people and property recover is our mission!
Our expertise at your service. Cut through the noise and confusion with a free inspection and free consultation.
24 hours a day. 7 days a week. We'll be there when you need us to cleanup and restore your damaged property.
Used by every insurance carrier in Commerce City and across the nation. Preferred for seamlessly resolving restoration claims.
We are a property damage restoration company that puts specialized knowledge and experience to work for you. Satisfaction guaranteed.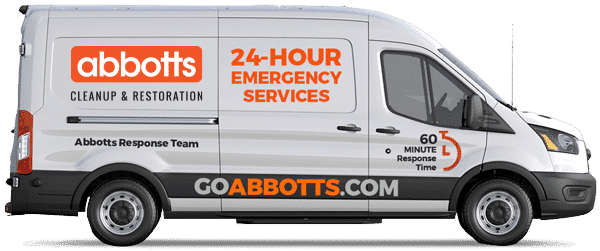 Need help? Abbotts is standing by in Commerce City with 24/7 emergency service. 
The company of choice for property damage restoration in Commerce City, CO
Expertise
The Commerce City property damage restoration company that offers a wide range of water restoration services is going to be preferable compared to a company that offers fewer services. This is the easiest way to determine general expertise. A company with many options is more likely to have had training in all of the different options.
Online Reviews
Look for a restoration services company in Commerce City who is highly regarded and has a solid reputation. While word of mouth is still one of the best indicators, online reviews are great option to locate quality water damage cleanup and restoration professionals. A quick check with the Better Business Bureau is always a good idea, too.