What Types of Flood Damage Can Occur from Monsoon Season?
When you hear the words "monsoon season," locations like India and Sri Lanka come to mind. But did you know that Colorado has its own monsoon season? The state experiences an annual deluge of afternoon thunderstorms during the months of July, August and September, which is part of the North American Monsoon (NAM) weather system. Especially for residents with properties in a flood zone, monsoon season can have a major impact on your home. Should your house experience flood damage, homeowners might not be aware of what is or isn't covered in their insurance plan.
We examine what can happen to your house during monsoon season, the complexities of insurance coverage and how Abbotts Fire and Flood Restoration can help you with the cleanup process.
What Happens in Monsoon Season?
During the summer months, a shift in the wind patterns brings moisture from the Gulf of California across normally dry areas of the southwest. The resulting monsoon season, which can bring flash flooding, lightening and hail, affects the four corners region and, in fact, much of Colorado. Rain can be moderate to heavy, and hail can be potentially damaging as the seasons change in June and middle to late August. These storms can generate a great deal of lightening and heavy rainfalls, especially in the mountain regions.
If your roof leaks in heavy rain, your rain gutters are old (or non-existent) or your basement leaks in heavy rain, now is the time to make repairs! It is essential to keep your home in good condition so that you and your family can safely weather the monsoon seasons. This includes regularly checking and maintaining the roof, keeping trees near the house trimmed, evaluating your property's drainage system and keeping gutters and downspouts clear.
Protecting Your Home or Business from Flood Damage
DisasterSafety.org outlines steps you can take to prepare for a flood. The valuable resource tells you what you should do if flooding is imminent, what to do after a flood and how to protect your home or business from floods. The DisasterSafety.org site lists recommendations for homeowners to reduce the chance of flood damage. This includes knowing if your home is in a flood zone and learning the base flood elevation (BFE) for your property. You'll need to determine if your home's lowest floor is above or below the BFE. If you're in a flood-prone region, you should consider elevating the structure to minimize the risk of flooding, and anyone in a high-risk flood zone should purchase flood insurance.
They also recommend that you:
      Raise electrical components to prevent risk of fire due to short circuits.
      Protect HVAC equipment. Move all heating, ventilation and cooling equipment to a higher floor or build a containment barrier around it.
      Ensure that the land surrounding your home directs water away from the structure and not towards it.
      Anchor any fuel tanks that can be swept away or cause damage.
      Install an exterior or interior sewer backflow valve.
      Check your sump pump and make sure that it's fully operational with charged batteries.
      Inspect your well and consider protecting it from floodwater contamination.
      Move valuables away from areas that are at risk of flooding, such as a basement, an attic or a crawlspace.
If your roof leaks in heavy rain, you should have it repaired or replaced before the next monsoon season. If your basement leaks in heavy rain, it is important to take steps to seal the foundation and/or install a sump pump.
How Can Monsoon Season Impact You and Your Home?
Is your home in a flood zone? You can look up your property on the FEMA Flood Map to determine if you're in a high-risk area. However, even if your house isn't in a designated flood zone, the heavy rains that occur during monsoon season can cause flooding in any home. Also, strong winds can bring down trees and hail can cause additional damage.
If your home floods, it isn't just the visible water that's a concern. Standing water that gets into carpeting, flooring, walls and furniture can cause mold, which can be dangerous for human health. The Centers for Disease Control and Prevention (CDC) discusses the health effects of mold in the home. Should your home become flooded, it is extremely important to contact a professional mold remediation company right away, so they can immediately rid your home of water and address any lingering moisture issues before mold grows and begins to affect your family's health. The CDC recommends completely drying out the home within 24-48 hours of a flooding incident, to prevent mold from growing.
Does My Homeowners' Insurance Cover Flood Damage?
Will your homeowners policy cover water damage? Yes and no. A standard homeowners' insurance does not cover flood damage, which is defined as water touching the ground and then entering the home. Specialized flood insurance will ONLY cover this type of flood damage—the water must first touch the ground and then enter the house. If the water damage is caused by a leaking roof or a broken window, that type of water damage is covered by a standard homeowners' policy. Most homeowners' insurance, though not all, will also cover storm damage from wind, hail and lightning. There may, however, be special provisions and different deductibles for specific types of damage.
It is very important that you know the details of your policy and understand exactly what your homeowners' insurance covers (and doesn't cover). Make sure that you have the right kind of homeowners' insurance for your location. For regions that are prone to monsoon seasons, certain insurance companies offer specialized monsoon season home insurance, which provides more comprehensive coverage for the risks associated with monsoons.
Abbotts Fire and Flood Restoration Helps Homeowners with Disaster Restoration
Home insurance can be complicated, especially when you're trying to make a claim after a disaster strikes your home. Because of this, Abbotts has insurance restoration experts on staff to help you navigate the chaos and complexity of disaster restoration.
Abbotts' highly trained crews are standing by to respond quickly to any flooding emergency. They provide 24-hour emergency services to help protect your property, mitigate your loss and keep you safe. Abbotts is licensed, certified, insured and BBB Accredited with an A+ rating. They offer complete residential restoration, which includes cleanup, reconstruction and full management of insurance claims, so that clients can get the benefits they deserve without having to deal with complicated paperwork.
Abbotts' Water Damage Restoration Services include:
      Free inspection of the water damage
      High-tech infrared cameras and moisture meters – to determine the full extent of the water damage.
      Containment systems – special barriers that prevent further damage from water or contaminants.
      Water extraction – performed quickly, before mold can grow, with specialized equipment that includes drying systems and dehumidifier units.
      Decontamination, antimicrobial cleaners and sanitizers – to neutralize chemicals, kill bacteria and prevent mold growth.
      Detailed estimates for reconstruction and restoration – after water damage mitigation is complete, to get you back to normal.
      Content cleaning – many of your belongings may be recovered by water damage restoration specialists.
Why should you call Abbotts for flood damage repairs? Using a professional flood remediation company like Abbotts can save you money, by doing the job right the first time. Check out our YouTube channel for more reasons to call Abbotts for flood damage repairs.
Abbotts Fire and Flood Restoration proudly serves communities throughout Denver, Boulder and surrounding areas. Contact us for more information.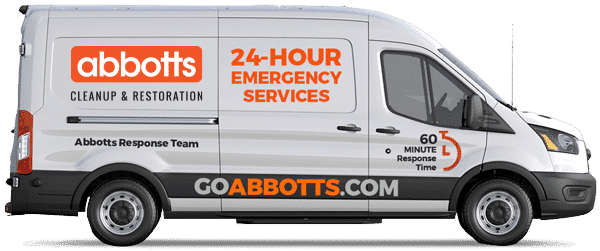 Need expert help? Abbotts is standing by 24/7!