Protecting Your Denver Home During Monsoon Season
Denver's monsoon season is no joke. Although we're generally considered to be a pretty dry state (snow notwithstanding), the late summer months make up for it by dumping a whole lot of water on top of us. In fact, just a week and a half ago, some 400 million gallons of water rained down on the Denver suburb of Highlands Ranch – incredible!
So, what does this mean for you? Well, in addition to making sure that you don't leave home without an umbrella, you should also be taking steps to protect your home against threats from a potential deluge. Monsoon season is nearly at its end, but it's important that you follow these professional tips in case you haven't already. You might also watch our video on Fall Prep Tips.
Clean Your Gutters
Gutters and downspouts are huge problem areas for homes during monsoon season. These fixtures are in place to help collect excess rainwater as it drains off your roof and direct it away from your home. If your gutters and spouts are clogged up with leaves, small twigs, branches, bird nests, and other debris, they won't be able to do their job. When this happens, water will pool and can cause your roof to start leaking, which will sometimes lead to flooding around your home's foundation. This could ultimately leave you with a flooded basement. You can clean your gutters yourself; having a professional come by and ensure that your gutters and downspouts are both clean and in good condition can save you a fortune in the long run.
Assess Your Roof
A heavy rainstorm isn't the ideal time to discover that you've got a leaky roof. Savvy Denver homeowners keep an eye on their roofs throughout the year, paying particular attention to the details prior to and throughout monsoon season. Be on the lookout for shingles that are curled up around the edges, balding spots where granules may be missing, or areas where shingles may have been ripped off or blown away in the wind. If any of these signs are present, it's important to have a professional check out the roof and determine how best to go about tackling the problem. You might find that only one or two shingles need to be replaced, or you could discover that a large section of the roof should be replaced. In either case, repairing your roof will protect your home from becoming seriously flooded beyond repair and will prevent your priceless possessions like family photos and heirlooms from being damaged by water.
Get Your Basement Ready
If you're like many Denver-area homeowners, your house includes a basement. While handy in terms of added square footage and storage, basements can also pose problems during monsoon season. Because basements may tend to flood after heavy rainfall, it's very important that you take the time to evaluate this area and take steps to prevent water accumulation. The best way to do this is to install a sump pump and make sure that it is well-maintained and in working order. In addition to this, we recommend checking your foundation walls for cracks and having them sealed before it rains, making sure that your downspouts extend out far beyond your foundation walls, and consider making use of window well covers during the monsoons.
Taking these steps can go a long way in protecting your property against potential damages during monsoon season. In the event, though, that your home does become flooded or otherwise damaged by heavy rainfall, it's important to have those damages assessed and repaired right away. The experts at Abbotts Fire & Flood are ready to restore your home to excellent, pre-monsoon condition today. Give us a call to learn more about our services.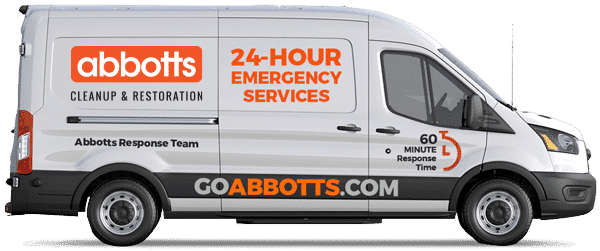 Need expert help? Abbotts is standing by 24/7!