How to Recover from Storm Damage this Summer
As storms roll in this summer, you may find yourself confronted with damage to your home. Torrential rain, wind, and hail can all wreak havoc on your roof, siding, and windows, and compromise the integrity of your home.
If you find yourself in this situation, it is important to take certain steps. Both for your personal safety in the short term, as well as your financial wellbeing and the wellbeing of your home in the long term, we have outlined below what to do when you're hit with a major storm.
Safety First
Storms damage remediation can be dangerous if you are not trained in proper safety protocols. You may find yourself facing safety hazards including, but not limited to:
Downed power lines
Power outages
Standing water
Sewer backup
Broken glass from windows
Collapsed roofing materials
Exposed nails or other sharp objects
Your first priority should be the safety of you and your family. If the storm is still going strong, stay safe indoors or evacuate if your home is no longer safe. Once the storm has passed, be particularly mindful of the hazards listed above, most notably any combination of water and electricity.
Standing water can be dangerous, especially in basement or utility rooms. If you have standing water in your home, turn the power off or consult an electrician to do so before entering the area. Use flashlights rather than candles or any other open flames to navigate if you are without power.
If you can call in a storm restoration specialist to help at this stage, it is a good idea to do so. They will be able to assess the safety and let you know what your repairs will look like. There is no use putting yourself at risk when you will likely need to bring in professionals to assist with repairs anyway.
Document Everything
Since you will be dealing with your homeowner's insurance, you may have already guessed that documentation will be very important. Take pictures of all exterior and interior damage from a variety of angles, and do so before you begin doing any cleanup work. As you uncover more damage, continue to take pictures. Also take notes on any discussions you have with your insurance company and contractors, and keep all receipts.
Make Temporary Repairs
Particularly in the case of damaged roofing, windows, and doors, you will need to make what repairs you can immediately. It is your responsibility to make your home secure in order to protect against further damage by weather or vandals.
This includes boarding up windows and doors and covering any areas where water might get in with a tarp. Of course, getting professional repairs as soon as possible is important, but right now it is your responsibility to make sure things don't get worse before repairs begin.
If your home is damaged to the extent that you will have to stay somewhere else during the repair process, let the local police know that you will not be occupying the home. They may be able to increase the patrol presence in the area, and even if they can't, taking each of these steps proves to your insurance company that you are doing everything you can to mitigate further damages.
Storm restoration specialists also offer board-up services, so remember that if you will eventually be bringing them in, you might want to consider bringing them in at this stage if there is extensive damage to address.
Assess the Damage
You may have a variety of types of damage. Be sure to check the following during your storm damage inspection:
Roof

Missing, bruised, or dented shingles
Holes in roof
Cracked or broken slate or tile shingles
Granules in gutters or downspouts
Leaks in ceiling

Widows and glass doors

Broken glass
Cracks or holes
Broken frames

Siding, paint, bricks
Outdoor appliances, such as A/C units

Dents
Chips in paint
Cracks or holes
Consult Your Insurance Policy
You will need to get in touch with your insurance company pretty early in this process, although we recommend having a qualified storm damage remediation company in your corner before you do so. But even before this, and hopefully before a storm hits at all, it's good to know what your insurance covers.
Some people are devastated to find that things they were sure they were covered for, they aren't. Storm damage is one of these big shockers for many people.
According to insurance giant Allstate, homeowners insurance typically covers the following:
Water and ice damage
Lightning strikes and power surges
Wind, hail, and fallen trees
However, it rarely covers damage due to flood or earthquakes. You can secure separate insurance for these natural disasters, if they make sense for you.
Also, storms cause major landscaping damage, but unfortunately, this is almost never covered. You can expect that damage due to a fallen tree will be covered, but that the tree itself, along with the rest of your landscaping, will not be. There are policies you can add onto your homeowners plan, but landscaping is one of those things that is just never covered to the degree you might wish it were.
Make Repairs
When you're dealing with massive storm remediation, it may be in your best interest to bring in a qualified storm damage remediation company. They will be able to work with your insurance company every step of the way, and provide you with the peace of mind that your home is being fixed thoroughly and properly.
Abbotts will handle all aspects of the storm damage restoration process for you, from the initial inspection to the final repairs. We work directly with your insurance company, so you don't have to worry about ending up with surprise costs that aren't covered. And as a full-service remediation company, we can handle any other issues that arise, such as mold or contamination with other toxins. Contact us today for a free estimate, or for 24/7 emergency service.

Resources:
https://www.vacu.org/learning-planning/financial-management/managing-your-money/6-steps-to-recover-after-storm-damage
https://www.insurance-restoration.com/home-tips/storm-damage/recover-storm-damage/
https://www.allstate.com/tr/home-insurance/homeowners-insurance-cover-storm-damage.aspx
https://www.allstate.com/tr/home-insurance/landscaping-insurance-coverage.aspx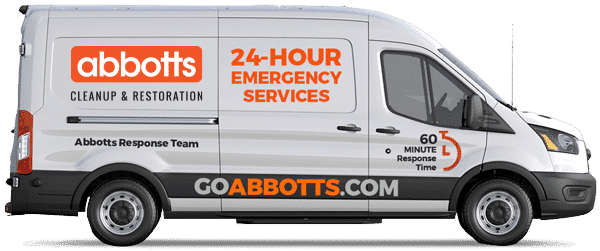 Need expert help? Abbotts is standing by 24/7!