Beware: Storm Scammers Are a Real Threat
You've heard of storm chasers, but have you ever heard of storm scammers? Unfortunate though it may be, there are always unethical people out there, just waiting to take advantage of those who have been impacted by a tragedy. After all of the flooding that has taken place in areas like Texas and Florida this season, we've seen tons of storm scammers come out of the woodwork in order to prey on the victims of Mother Nature. Because many areas throughout Colorado are prone to flooding, wind damage, and other natural disasters, we want to make sure that you don't get scammed in the future. Taking a few moments to read about how to avoid storm scammers now will help to protect you when the next big storm strikes your town.
How Do Storm Scammers Operate?
In order to avoid being taken advantage of, you need to understand the enemy and how it operates. When all or part of a community has been impacted by a storm and is in the process of trying to clear away the wreckage and make repairs, storm scammers get excited. In the midst of all of the chaos and ruin, these rip-off artists will see a great deal of opportunity. They know that homeowners and business owners will be in a state of desperation, trying to get work done as quickly as possible. They also know that local contractors and restoration companies will likely be overwhelmed with demand, making it easier for them to sweep in and scam unsuspecting property owners.
At this point, storm scammers will start to make their move. These out-of-area contractors, who often aren't licensed but say they are, will pile into town and start tacking up signs in public or posting ads online. Here, they will advertise their "services" and prices. Some storm scammers may even go door-to-door trying to drum up business. Once they've hooked a homeowner, they will ask for an up-front portion of the total cost of services. Once they've collected the cash, they will say they need to get their supplies or organize their crew and that they'll be back later that day or the next day – and then they disappear for good. Along with your money.
Avoiding Storm Scammers
The good news is that by knowing how storm scammers operate, it is much easier for you to spot a con artist and protect yourself and your money. Here are a few simple tips for spotting storm scammers and for avoiding being ripped off:
Get It In Writing – Don't let a "contractor" give you a verbal quote or estimate for the cost to get the work done. A credible contractor will be able to provide you with a written proposal on their letterhead so that you have the business's contact information.
Be Wary of Up-Front Costs – Although many legitimate contractors charge some type of up-front fee in order to secure their services, alarm bells should go off if that fee exceeds one-third of the cost of the total job.
Don't Pay Cash – If a "contractor" insists that you pay in cash, you should start to feel suspicious. Even if you trust a contractor and prefer to pay in cash, you should always obtain a valid receipt for the amount that you paid in order to protect yourself. A reputable contractor will have no problem taking some other form of payment, or at least offering a receipt.
Don't Make On-the-Spot Decisions – A good contractor won't try to pressure you into making a decision on-the-spot. Legitimate businesses will understand that you may need to do some research or shop around before making a decision.
Of course, in order to avoid ANY doubt or complications, you can always call the experts at Abbotts Fire & Flood for help in your hour of need. We have been serving our neighbors throughout the front-range for decades. We offer fast, reliable services at rates you can afford. Contact us for a free estimate today.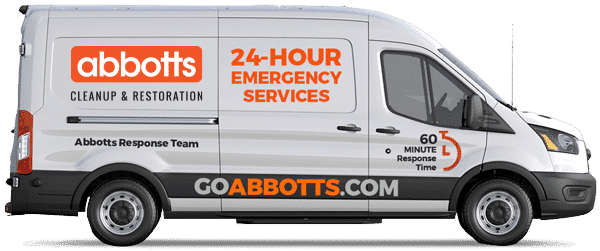 Need expert help? Abbotts is standing by 24/7!