PROPERTY CLEANUP & RESTORATION IN LOUISVILLE, CO
We help people & property recover.
Mitigation First, Full Service:  Immediate emergency response and everything else you need to get back to normal as quickly and painlessly as possible.

Dependable. Reliable.



We help our neighbors in Louisville navigate the chaos and complexity of disaster restoration.
Louisville, Colorado Resources and Information
Louisville, Colorado, has been repeatedly recognized as one of the best places in the United States to raise a family. The home rule municipality boasts six public schools and six private schools for a young and growing population.
Incorporated in 1882 after the discovery of coal in the Welch coal mine, Louisville now is home to the offices of several high-technology companies such as Rogue Wave Software, the Space Systems component of Sierra Nevada Corporation, and even the ride-provider Uber.
In 2022, the most destructive wildfires in Colorado history, the Marshall Fire forced an evacuation of Lousville. High winds stoked fire and smoke, destroying 553 homes and damaging 45 others. The City of Louisville website offers many resources to help with the continued recovery.
Important Numbers 
Emergencies: 9-1-1
Louisville Police Department: 303-441-4444
Louisville Fire Station 1: 303-666-6595
Utilities Emergency: 303-441-4444
Louisville City Manager: 303-335-4530
Louisville Chamber of Commerce:  303-666-5747
When we ask ourselves why we do what we do, it's about the people. Helping people and property recover is our mission!
Our expertise at your service. Cut through the noise and confusion with a free inspection and free consultation.
24 hours a day. 7 days a week. We'll be there when you need us to cleanup and restore your damaged property.
Used by every insurance carrier in Louisville and across the nation. Preferred for seamlessly resolving restoration claims.
We are a property damage restoration company that puts specialized knowledge and experience to work for you. Satisfaction guaranteed.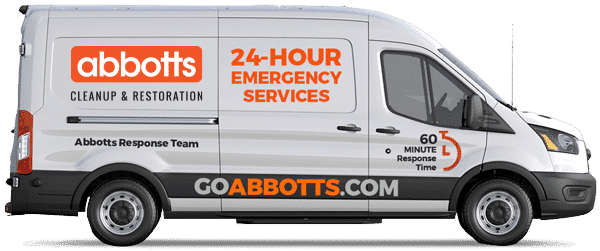 Need help? Abbotts is standing by in Louisville with 24/7 emergency service. 
The company of choice for property damage restoration in Louisville, CO
Expertise
The Louisville property damage restoration company that offers a wide range of water restoration services is going to be preferable compared to a company that offers fewer services. This is the easiest way to determine general expertise. A company with many options is more likely to have had training in all of the different options.
Online Reviews
Look for a restoration services company in Louisville who is highly regarded and has a solid reputation. While word of mouth is still one of the best indicators, online reviews are great option to locate quality water damage cleanup and restoration professionals. A quick check with the Better Business Bureau is always a good idea, too.