What to Do After You Experience Commercial Fire Damage
After experiencing a commercial fire, you will likely feel overwhelmed and not know what steps to take, or in what order. Fires can cause catastrophic damage and be very traumatizing, and it is understandable to feel out of control after the fire occurs. Unfortunately, it is also during this time that you must take important steps in order to return your property to workable condition and to ensure you maximize your insurance settlement.
Commercial industries face special challenges after a disaster. From mitigation and cleanup to reconstruction and structural repairs, a professional commercial restoration contractor works with you to minimize business interruption and reduce customer, employee, and tenant losses.
Here, we cover the steps you should take after a commercial fire.
Contact a Fire Damage Restoration Company
Businesses face special challenges after a disaster.  In addition to the property damage, a business owner must consider impact to customers, employees, and tenants as well as inventory loss and business interruption. You are going to want to work with a company that can help you through this process from beginning to end, as well as coordinate between you and your insurance company. By getting a qualified fire damage restoration company contracted quickly, you will ensure your property will be secured and protected from additional damage then properly cleaned, sanitized, and returned to working order as quickly as possible. They will also communicate with you to let you know what is going on with your insurance company every step of the way.
It is a good idea to work with a restoration company like Abbotts Fire and Flood, which is capable of handling a variety of types of damage, including fire, flood, and mold, as the water used to put the fire out will have likely caused additional damage. Using one company that can address all of these issues will mean nothing important gets missed, only to rear its ugly head down the road. Watch this video to learn more about Commercial Restoration.
Take Safety Precautions
Do not enter your building again until the fire department has given you the "all clear" to do so. It is also a good idea to shut off the electricity and main water supply to the building. The fire could have damaged these systems, and they should be professionally examined before you turn them back on.
Once you are okay to enter, remember that fire can leave many toxic elements behind that aren't necessarily obvious. There are toxic chemicals in smoke and ash that are dangerous when in contact with skin and mucous membranes (such as your eyes and mouth), as well as in the air. If you are going to do anything inside of the building, wear protective clothing, gloves, and a respiration mask.
Protect from Additional Damage
Your insurance company will only cover damage covered by the disaster in question – not anything that happened afterwards as a result of your neglect. For instance, if your windows are not boarded up and there is a storm, additional damage caused by that storm could be attributed to the open windows.
Use tarps to cover any holes in the roof and walls and board up doorways and windows. This both protects from the elements and deters vandals from attempting to enter the building. Unfortunately, this sort of damage calls out to vandals and thieves, and you want to do what you can to prevent easy access.
Fire damage restoration companies provide professional board up and tarp service, and can ensure your property is as safe as possible during this process.
Contact Your Insurance Company
Once you have your restoration professionals on your side, give your insurance company a call. One important thing to note at this point is that this should all occur very quickly, as your insurance company will want to be notified early on. Also, it is important to wait to touch or move anything until you have spoken with your insurance company, as they will want a thorough investigation of the damage performed, and destroying any evidence could nullify your claim, or lessen the amount you receive.
Notify Your Local Police Precinct
As mentioned earlier, buildings with fire damage are hotspots for vandalism, theft, and squatting, and you want to avoid this as best as possible. By letting your local law enforcement agency know about the fire, you take another step to secure your building and its contents. They may choose to patrol the area more often during the initial stages of the reconstruction, while it is still vulnerable.
Document Everything
From taking pictures to saving receipts, make it your job to thoroughly document throughout this process. You will need to be able to provide all of this information to your insurance company. If you are reading this before a disaster has taken place, make sure to take "before" pictures or video of everything you own! It is very difficult to inventory everything after the fact once it has been damaged beyond recognition. Open every drawer and every closet in every room – kitchen, bedroom, bathroom. The best way to prove what was destroyed to an insurance company is to have evidence of what was there before the loss.
Final Thoughts
The destruction caused by a commercial fire can be catastrophic. A Small Business Administration report finds that as many as 25% of small businesses never reopen after a disaster and more than 90% of businesses fail within 2 years of being struck by disaster.
"The data we've gathered reveals a consistent pattern of business failure shortly after the start of a fire, which can lead both to inventory problems and a difficulty attracting customers" said SBA administrator Karen Mills, whose staff researched businesses that had experienced fires, in preparing the report.
Your best hope for getting your business open after a fire is working with a full-service remediation company that knows what to do every step of the way. From rebuilding the structure to restoring furniture and salvaging documents, Abbotts Fire and Flood can help you get through the devastation caused by a commercial fire. Contact us today for a free inspection.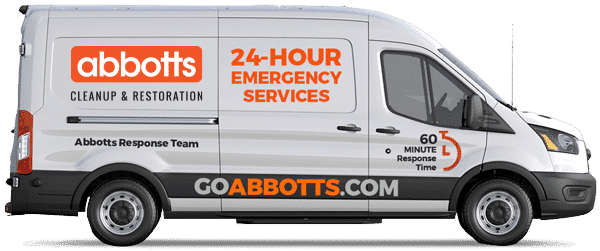 Need expert help? Abbotts is standing by 24/7!