Crime Scene Cleanup Takes Planning and Finesse
Mark and Carrie were two law-abiding citizens, happily subletting their home to renters while they enjoyed a year abroad. When they returned home, they found that their place had been used as a meth lab and had been raided by the police.
Frank was living out his American dream of owning his own business when the unthinkable happened: a drunk driver struck and killed a pedestrian in his store parking lot.
Sarah, a local apartment landlord, was just settling in for the night when she got a call that a brawl had broken out in one of her tenant's units, resulting in the death of one of the persons involved and the arrest of the other.
While none of these fine people ever expected a crime to take place in or on their properties, they were faced with a terrible set of circumstances. In addition to the stress of figuring out how to handle these difficult and tragic scenarios, each group also had to figure out the best way to restore their properties to safe and healthy conditions so that they could get back to life as usual. Unfortunately, cleaning up after a crime scene can be very challenging and complex. This is because many crime scenes are contaminated by chemicals that pose serious threats to life and health, as well as biohazards which can compromise health and well-being.
Although Mark & Carrie, Frank, and Sarah were quite shocked by the events that occurred in their lives, they were all wise enough to realize that crime scene cleanup is best left to the professionals. As a result, they were able to come out the other side as healthy and happy as possible. If you have found yourself in a situation where crime scene cleanup is necessary, you'll need to find an experienced cleanup crew who is able to tackle the job quickly and effectively. Not sure how to find a contractor like this? Here's a look at what's necessary for effective crime scene cleanup:
Training – In order to properly handle a crime scene cleanup situation, a restoration company and its team must be properly trained to do so. The group tackling your job should have received education on best practices, the use of personal protection equipment, awareness of any safety risks, the methods for safely removing contaminants, chemicals, and biohazards, and more. The best contractors will be licensed and certified to handle crime scene cleanup.
Attention to Detail – Because crime scenes can be so hazardous to life and health, it's imperative that your contractor has the ability to pay very close attention to every detail so that nothing is missed or overlooked.
Stamina – Crime scene cleanup can be very intense and physically challenging. As a result, you need a team of workers that have the physical stamina and strength required to get the job done quickly and correctly. They should also have the ability to do this type of strenuous work while wearing full biohazard suits, face masks, respirators, and gloves.
Commitment – Disaster may strike at all hours of the day, and your crime scene cleanup team should have the willingness and ability to help you in your hour of need.
Compassion – Finally, your crime scene cleanup contractor should understand that crime scenes often involve difficult and tragic circumstances and should be professional and compassionate throughout the cleanup process.
If you have found yourself in need of a reliable and experienced crime scene cleanup crew, Abbotts Fire & Flood is the name you can trust. We are certified to handle crime and trauma scenes and are ready to help at a moment's notice. Contact us for a free job estimate today.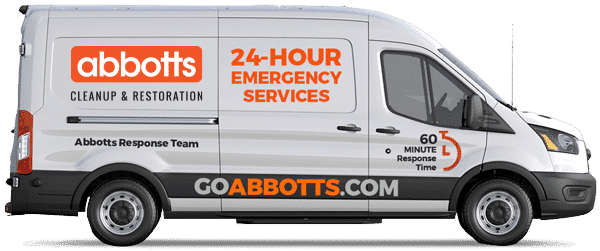 Need expert help? Abbotts is standing by 24/7!