Personal Water Damage Experience Part 2: Getting Organized
Just a while back, we told you about our dear employee Jenna who had experienced a bit of misfortune at her home last year. With her impending nuptials only six weeks away, water damage in her kitchen threatened to disrupt her life – and that's precisely what it did. This four-part blog series will explore different aspects of Jenna's experience to give our readers a better understanding of what it's like to experience such a thing and how Abbotts Fire & Flood can help alleviate a dire situation.
The first part of this series focused on getting readers acclimated to the overall situation. If you missed it or would like a bit of a refresher, click right here and check it out. And now that we've gotten that out of the way, let's turn our attention to the steps Jenna took to get organized with this hanging over her head – and how our crew was involved.
Contacting the Restoration Experts
Upon learning that her kitchen had basically become the setting for a Waterworld sequel, Jenna picked up the phone and called Abbotts Fire & Flood immediately. She was aware that the more quickly she acted, the less damage her home would suffer. There would be less chance of mold accumulation, of course, but the bigger concern was damage caused to the floor, walls, furniture, and appliances. As with any caller in need, our restoration experts headed out to her home and performed a damage evaluation right away. Turns out, the water line going to her fridge had suddenly busted, spewing water throughout her kitchen. This part was an easy fix, but the damage to the home – as usual – would not be.
Figuring Out a Work Schedule
Once damage to her home had been assessed, Jenna had to start organizing the work schedule for everyone involved. She had to figure out how she was going to make this work since there would be a restoration crew in her home for a period of time. While she began straightening all this out, the restoration team kicked into gear and began the first part of the process which included steps to impede further damage. Jenna then worked closely with the crew to determine the best times for the repairs to be done so that she could still function somewhat normally each day. Once the work schedule was decided upon, the contract was signed and the crew began to organize is part of the arrangement in terms of manpower and needed equipment.
Dealing with the Interruption of Her Life
Jenna had been witness to the "interruption of life" that occurred with clients many times in the past, but experiencing it herself was much different. For the first time, she could truly put herself in the shoes of people who had suffered damage to their homes. While she would later be thankful for attaining this level of insight, this wasn't on her mind at the time. What she was thinking about was how the heck she would function normally with a crew in her home and a kitchen that was sometimes inaccessible. She needed to mentally and physically prepare for what was to follow – which we'll explore in detail in the third part of this series. Cliffhanger!
You can't truly understand what it's like to experience severe damage to your home or office until it happens to you. Little things that you took for granted will suddenly become a bigger issue that you must deal with on a daily basis. If you have suffered any damage, be sure to reach out to the experts at Abbotts Fire & Flood so that we can help you get your life back on track ASAP. And don't forget to come back here for great advice and the final two segments of Jenna's story!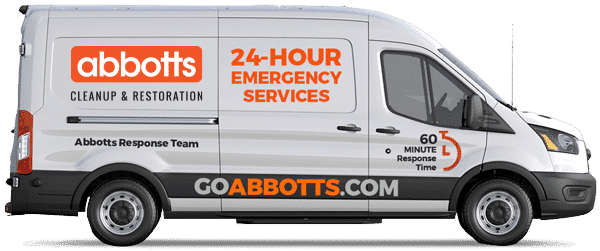 Need expert help? Abbotts is standing by 24/7!