These Water Damage Facts Will Give You Nightmares
So, your house flooded. Perhaps it was due to a burst pipe, or maybe the flood happened due to melting snow, an ice dam, a rain storm, or some other type of weather-related incident. Regardless of why the flooding occurred, though, you've got a major problem on your hands, and the problem will only grow worse with time. As you go about the process of cleaning up the wreckage of the flooded areas of your home, it's important to be conscientious of the potential hazards and the safety issues that can prevent them. Here's a look at a few facts to be aware of:
Mold Starts Growing Fast!
If you're tempted to put off flood control and repairs by another day, don't! Mold can be extremely hazardous to health and it only needs three things in order to start growing: oxygen, moisture, and organic material (like your walls, flooring, etc.!) In fact, mold can start creeping up in as few as 24 hours. You can practically hear it growing as you try to sleep at night, and there's no way of knowing if it's toxic or non-toxic. Regardless, even non-toxic mold can create a musty, unpleasant odor throughout your home and can aggravate allergies and asthma.
Small Cracks = Huge Disasters
Maybe you've discovered that you have a small crack in one of your pipes. While just an inch doesn't sound like too big of a problem, you can't put off making the necessary repairs. From this small fissure, 250 gallons of water can leak out in just a single 24-hour period. That means the very real possibility of mold growth, large scale flooding, and major water bills. Try sleeping at night with THAT in mind!
Floodwater Conducts Electricity
You turn on the basement lights and descend the stairs only to find a couple inches of standing floodwater covering the floor. What do you do? Before you slosh through the water to try to find the source, bear in mind that water is conductive to electricity, and even a minimal amount of water could be electrically charged – especially if it has come into contact with electrical outlets, cords, or similar devices. Being electrocuted or injured just adds to the nightmare of the situation, so be sure to disconnect your power before coming into any contact with floodwater.
Floodwater Can Be a Biohazard
When a home is flooded due to sewage problems, it's pretty obvious that a biohazard exists. When a home is flooded with fresh water, though, some people make the mistake of believing that the water is safe. In reality, contaminants can quickly accumulate in even the freshest water and can present health issues, illness, or discomfort.
Don't Deal With the Nightmare Alone
Knowing the facts about flood damages is extremely important, but it can also leave you feeling stressed out. Being aware of the hazards that flooding can present may give you nightmares, but you'll feel much better when you know that you don't have to deal with the catastrophe on your own. In fact, you're much better off leaving the cleanup and repairs to a team of professionals who know how to look out for all the signs of problems, and who are equipped to deal with potentially dangerous situations so that you and your loved ones don't have to put yourselves at risk. They'll get things taken care of so that you can get back to living a comfortable life inside of your home as quickly as possible.
Looking for the right cleanup and repair crew for your flooded home? Give the experts at Abbotts Fire & Flood a call!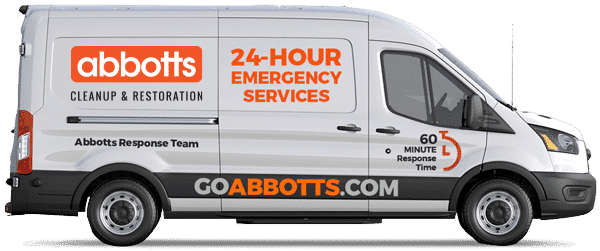 Need expert help? Abbotts is standing by 24/7!