Preparing your home for going on vacation this fall checklist
Going on that much-awaited vacation? Leaving for longer than you expected to avoid some of the abominable weather on the way? It may seem like there are a hundred things to do: renew your passport, decide what to pack, get an adapter for those pesky international outlets and several other things as well. But have you taken the time to consider your home?
It may sound daunting to add one more huge project as you make preparations for your trip, but it may come as some surprise that readying your house for your trip is simpler than you think.
Preparing your home for vacation is easy when you have a list of areas to get ready before you leave. Here at Abbotts, we aim to assist you make your house ready so you relax. Our checklist for leaving home for vacation will help you get your ducks in a row and enjoy your time off.
Shut off the water
One of the first things to do before leaving is to shut off your main water supply. Leaks, bursts and other problems happen and if you're not there when they do, it can go from bad to worse very fast. While leaving for a few days without shutting it off is probably okay, anything longer than that increases the risk. You could also install water detection sensors that notify you if there is water where there shouldn't be. Homeowner's insurance should help with water damage if anything should occur, but still, nothing ruins a good vacation like coming home to a swimming pool in your basement.
Well, I thought faucets and spigots were supposed to drip to keep from freezing, you might say. Opening up cabinets and closets expose pipes to the house's heat, helping to keep them from freezing. You can open your drawers too to keep them from smelling once you return.
Check the Sump Pump
Even water from outside of your house can give you headaches once you return. Cleaning, inspecting and testing the sump pump by dumping a bucket full of water into the pit. If the pump doesn't kick into gear, call a plumber. Having a sump pump with a battery backup is a massive benefit in case there is a power outage.
Unplug electronics
Sad to say, even when they're not in use or even turned on, the appliances in your home are constantly using energy. Unplug your TV, washer, dryer, even your toaster. If you're leaving for an extended vacation (lucky you), clear out your fridge and freezer, put down some old towels on the ground to soak up the water, and unplug your fridge. You will be surprised at how much you save on electricity.
Check your smoke detector
Make sure every detector in your house is in good working order by replacing the old batteries with new ones and then testing them.  Testing should be done once a month anyway and a battery should be replaced once a year. Doing these things before you leave will relieve additional and unnecessary anxiety while you're taking in the sights or sitting by the beach.
Notify the alarm company, put timers on a couple of lights, and take photos of the rooms in your home.
Doing all you can to ensure your house is secure before you leave will go a very long way toward you enjoying your time away. If your house has an alarm system, notify the company of the dates you will be gone so they will know when there's not supposed to be someone there. Putting a timer on a couple of lights will also scare away any trouble makers as it will appear as if your house is being lived in. At the most basic level, take photos of your belongings in each room. This way you will know if anything is amiss when you return.
Our house checklist before vacation is designed to give you peace of mind so you can relax on holiday. To further help you prepare for your much deserved time off, you can watch this informative video: When do you need to call in professional help? And as always you can contact the home restoration experts at Abbotts for any questions, concerns or assistance you might need.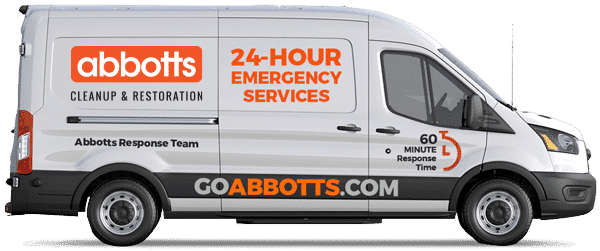 Need expert help? Abbotts is standing by 24/7!