What to Do if Your Home Experiences Hail Damage
As Colorado residents, we are no strangers to hailstorms. In fact, Colorado has experienced more than $3 billion in insured damages over the last 10 years, and saw more reports of 3-inch hail in 2018 than it had in 20 years. With your chance of getting hit by one of these storms almost a certainty, it is important to know what to do as a homeowner when hail strikes.
Know Your Insurance Policy
If your hail damage is functional rather than merely cosmetic, you will need to get things patched up either way, but it is important to know what your homeowners insurance does and does not cover.
According to Allstate, most homeowners insurance does cover hail damage to homes, but there are some exceptions. In states with a lot of hail storms, like Colorado, it is possible that your insurance provider will have chosen not to cover wind and hail, in which case you will want to look into getting a policy specific to these types of damages. Additionally, some policies do not cover damage that is only cosmetic.
The key is to know what exactly your insurance company covers, and to discuss the policy with them if you have any questions. One important question to ask is whether your premium will rise as a result of having filed a claim. According to insurance.com, "since weather damage isn't caused by your negligence, your insurer typically won't hike your rate. However, your rate may increase if you've filed a claim within the three previous years, and the hail claim is your second."
Take this into consideration, as well as the extent of the damage when compared to your deductible, before deciding whether to file a claim with your insurance provider.
Determine Whether You Have Damage
The easiest way to safely tell whether a recent hail storm caused damage to your home is to do an inspection from the ground. This will let you know whether either you or an inspector needs to make your way up to the roof to continue the inspection.
Some of these signs are simply indicators of a bad hailstorm, whereas others are also important to note when appraising the damage, as they may be covered by insurance. It's a good idea to take photos to document every step of the way. If you happen to have "before" pictures, as well, that's even better. (Go ahead and take some if you're reading this before a storm actually strikes.) Check out our hail damage videos on YouTube for more information.
Any combination of the following indicates that you may require hail damage removal professionals to assess and repair your roof and home:
Dented metal facades, particularly gutters, gutters screens, and downspouts
Collected shingle granules beneath your drainpipe and in your gutters
Chips and dings in the paint on your home's exterior
Damage to other exposed metal surfaces and appliances, such as air conditioning units
Damage to window sills and casings
Dings in the paint or stain on your porch
Damage to a shed, patio cover, or gazebo
Shredded leaves and other foliage
Areas of broken concrete in your driveway
If you note these sorts of damages, it is time to decide upon next steps. You can assess the roof yourself (if you can do so safely, once it has stopped raining) or you can call in a professional hail damage inspection team to do so.
If you believe you will be getting repairs one way or the other, hail damage removal companies like Abbotts offer a complimentary consultation, so it makes sense to call them in at this juncture. Hail damage contractors can also help you by working directly with your insurance company.
Assess the Roof
If you choose to go up on the roof yourself, you will want to look for and document the following signs of damage:
Dings in roof vents and other metal surfaces
Granules knocked off of asphalt shingles -- this means the integrity of the shingle has been compromised and it will need to be repaired
Bruising in asphalt shingles -- can be felt by manually inspecting the surface
Splitting in wood shingles
Round dings in metal shingles
Cracks and gouges in clay and slate roofing
Hail damage removal is the next step if your roof shows any of these signs, as this type of damage only breeds additional trouble. Even worse, if your insurance company finds that your negligence regarding timely repairs causes further damage, such as flooding, then they will not be liable for that damage.
Time is of the essence when it comes to hail damage inspection and restoration. Call Abbotts today for a free consultation.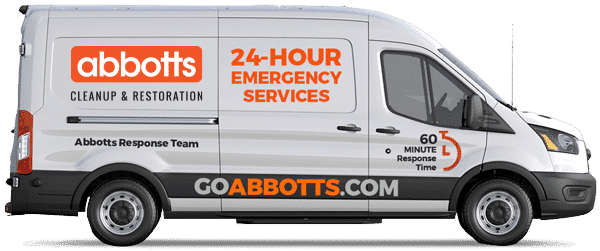 Need expert help? Abbotts is standing by 24/7!