What To Know About Fire Insurance Coverage
In the US, there are over one million fires reported yearly. The National Fire Protection Association's 2017 report estimates a home fire occurs every 88 seconds. Without insurance, homeowners would be left on their own to pay for the billions of dollars in property damage. Fortunately, a majority of homeowners policies provide home fire insurance coverage. Hiring a professional restoration service to perform a comprehensive assessment of cleanup costs can also help to maximize coverage. Here's what else you need to know about fire insurance coverage.
Fire Damage Covered by Homeowners Insurance
Nearly all homeowners insurance policies cover home fires. There are a few exclusions and limitations depending on the policy. However, they should provide up to the limits specified. Insurance pays for damage to property structure, home contents, and living expenses if you have to vacate your home during restoration. Some providers will pay for repairs to landscaping and outside structures such as fences, as well.
Home Fire Damage That Is Not Insured:
Fire damage to vacant homes.
Home fires resulting from arson.
Cars. Vehicle damage should be addressed via auto insurance provider.
Reimbursement rates are contingent on the policy, as well. Some policies cover replacement cost at current market value. Other companies offer actual cash value coverage at the price for which you originally purchased them. If items have increased in value since purchase, home insurance for fire damage may not fully cover them.
The Benefits of Hiring a Professional Restoration Service
There are few advantages of hiring professional cleanup services to restore your home. First of all, restoration companies respond quickly, so more house content and structure can be salvaged. For example, upholstery can usually be recovered with the right equipment and expertise. This reduces the repair costs you have to include in your insurance claim.
In addition, restoration consultants can navigate home fire insurance coverage policies to provide optimal coverage. These licensed, certified, and insured professionals have estimating software and expertise to evaluate your home through and through. Since insurance companies cover loss, you'll want a professional to provide you with a thorough documentation to identify damage you may have overlooked on your own. Then, having assessed cleanup costs, a restoration company can navigate the allocation of covered expenses to non-covered expenses. With their help, you can manage insurance coverage strategically.
The Types of Fire Damage Requiring Attention
Restoration projects tackle various types of damage. To file a thorough insurance claim, familiarize yourself with these main risks that need coverage.
Fire and Smoke
Insurance companies are obligated to pay for damage by fire as well as byproducts of fire, including smoke. Not all smoke is the same, though. Different types of smoke and smoke odor require different clean up methods, some more expensive than others. Have a professional evaluate the type of smoke odor and remedy required prior to filing an insurance claim to make sure you receive adequate coverage. Cleanup companies like Abbotts offer these smoke damage consultation and cleanup services as well as lifetime smoke odor recurrence warranties to ensure maximum safety and cost efficiency.
Water Damage
Where there is fire, there is usually water. Many homeowners overlook how much water is put towards extinguishing the flames and therefore forget to account for flooding when filing a claim. Insurance will cover water damage as well as mold attributed to fire extinguishment. Be sure to include the costs of water extraction, drying, and dehumidifying in your claim.
Asbestos and Toxins
Asbestos are cancerous fibers commonly found in the roofing adhesive and insulation materials of houses built before the 1980s. Because it's not noticeable to the naked eye, many homeowners neglect this issue, risking their health and safety. In the case of home fires, most companies will pay for asbestos removal costs. Professional decontamination is costly yet necessary, so be sure to file it in your overall damage claim.
Code Upgrades
Unfortunately, code upgrades are not always covered by home insurance for fire damage. Nonetheless, it's critical that homeowners attend this issue so that their home can meet city health and safety standards again after recovering from a fire. For the most part upgrades are an out of pocket expense. However, if you receive cleaning or consultation services from Abbotts, they can minimize hassle and expense by providing you with some of the certificates that help you meet necessary standards.
Home content and structure damage related to flame, smoke, water, and toxins should all be paid for by fire insurance coverage. To make sure that you thoroughly document and address all damage, it's best to hire a professional fire damage restoration service. Not only can they help you restore your property quickly and safely, they can help you file an accurate claim to maximize coverage. Call Abbotts today for a free consultation.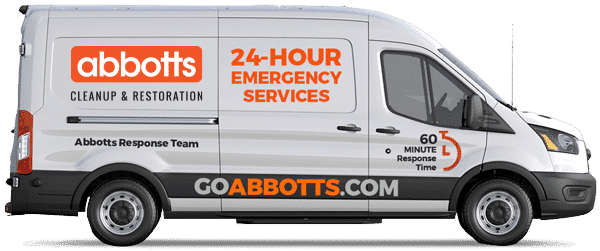 Need expert help? Abbotts is standing by 24/7!