We are the help you need when you need it.
Equipped with the necessary safety equipment and cleaning products, Abbotts professionals transform unsafe environments back into clean, safe homes and offices.

Dependable. Reliable.



Services
Inspection & Testing
Dehumidification
Content Moving & Storage
Decontamination
One Year Warranty
Professional damage restoration
These days, unfortunately, property owners and property managers are all too aware of methamphetamine. Meth contamination from use or production means serious risk for their property and other residents.
When methamphetamine contamination is discovered, the building must be thoroughly inspected and tested for the presence of hazardous substances. These properties are often classified by law or regulation as hazardous or contaminated because potentially hazardous and even fatal chemicals and fumes remain in the structure and can enter humans and animals through inhalation, ingestion and skin absorption. Exposure to methamphetamine contaminants can pose serious health consequences. Failure to properly remove these substances can contribute to unhealthy and dangerous environments.
Abbotts is experienced navigating the cleanup complexities as well as legal and regulatory compliance issues related to methamphetamine cleanup and mitigation. Specialized training and experience is key when choosing a cleanup company. Abbotts staff is trained to safely clean and remove hazardous substances and dispose of them properly in accordance with OSHA and health regulations.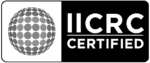 Choosing a Denver Meth Lab Restoration Company
There are legal as well as health consequences for improper cleanup of methamphetamine contamination. It less than 24 hours for mold to begin growing in high humidity conditions. A good water damage restoration company will free inspections as well as detailed estimates using industry-specific estimating software.
Find a Professional Meth Lab Cleanup Company
With the contamination complexities as well as legal and regulatory compliance issues related to methamphetamine cleanup, you want to be sure you hire a professional firm. A qualified meth lab cleanup company will have the necessary equipment and training to adhere to regulatory protocols. The last thing you want is to do it wrong. Health hazards and legal consequences call for professional help.
Specialized training and experience is critical when choosing a meth lab cleanup company.

Expertise
A meth lab cleanup company that offers a wide range of property damage cleanup and restoration services is going to be preferable. Comprehensive services is a great way to determine expertise. More services means that it is less likely something will be missed.
Online Reviews
Look for a meth lab cleanup services company who is highly regarded and has a solid reputation. Online reviews are great option to locate a Denver professional meth lab cleanup company. A quick check with the Denver Better Business Bureau is always a good idea, too.
Meth Lab Restoration Process
The water damage restoration process can be complicated. Standing water, humidity, contaminants, and mold growth are all considerations when developing a water damage restoration response plan.
Detailed inspection of the water damage
High-tech infrared cameras and moisture meters determine extent of water damage
Water extraction, drying systems and dehumidification units are put into place.
Additional water damage cleanup including decontamination, anti-microbials and sanitizers.
After water damage mitigation is complete, detailed estimates are prepared for the reconstruction and restoration.
When we ask ourselves why we do what we do, it's about the people. Helping people and property recover is our mission!
Our expertise at your service. Cut through the noise and confusion with a free inspection and free consultation.
We coordinate with your insurance company
to manage your insurance restoration claim.
24 hours a day. 7 days a week. We'll be there when you need us to cleanup and restore your damaged property.
Used by every insurance carrier across the nation and preferred for seamlessly resolving insurance restoration claims.
We are a property damage restoration company that puts specialized knowledge and experience to work for you. Satisfaction guaranteed.