24 / 7 EMERGENCY RESPONSE
WATER / FLOOD / SEWAGE DAMAGE RESTORATION
Water Damage Restoration Overview
Water damage can devastate your property in a short time. Heavy rain, storms, flooding, plumbing and sewer problems can all result in serious damage and loss of property and possessions. One in 45 households confronts water damage each year.
During harsh winter weather the risk of water damage from frozen pipes and burst pipes is high. If you have a frozen pipe or a burst pipe, you need to act quickly to minimize the water damage. In addition to sustaining damage resulting directly from water incursion, many flooded structures become ideal environments for mold. As soon as your property is flooded or damaged by water, the clock starts ticking. The sooner the location is dried, cleaned and restored, the lower the risk of hazardous mold growth.
Abbotts has the equipment, personnel and know-how to address your water damage and safeguard your property from hazardous mold. We'll be there when you need us!
Restoration Services
24 / 7  Emergency Response
HELPING PEOPLE AND PROPERTY RECOVER
The help you need when you need it!
What to Expect: Water Damage Restoration Process
24 / 7 Emergency Response
We respond within 60 minutes. 24 hours a day, 7 days a week.
It takes less than 24 hours for clean water to start creating mold spores. If the water is contaminated – like sewage – it will happen much more quickly.
Committed to customer satisfaction above all else, Abbotts trained crews are poised for fast response from a central Denver location. A comprehensive fleet of emergency response vehicles and a vast array of equipment ensures that we can quickly respond and deploy resources to mitigate your loss, protect your property and ensure your safety.
Water Extraction, Drying & Dehumidification
First order of business is stop the source of flooding and get the water out!  Our #1 objective is to reduce the severity of your loss, prevent additional damage to your structure and contents while making sure you and your family are safe from harm.
We use the latest in water extraction equipment to accelerate the process. Our specialized fleet of emergency response vehicles have truck mounted water extraction units and are equipped for emergency flood response.  Once the water is sufficiently extracted, we setup the drying system. The use of moisture reading sensors is critical during the dry-out. Even though a wall or floor can feel dry to the touch, there can be high levels of moisture trapped in the walls and the flooring materials. In the fight against the production of mold spores, moisture meters provide a quick, accurate and non-invasive way to read moisture levels.
Extracting water from your property can be a daunting, dirty and dangerous task without specialized equipment. The costs for tools and materials such as towels, sponges, boots, protective clothing, respirators, cleaning supplies, pumps and ventilation fans can quickly mount, costing you hundreds of dollars from the start. And the expense will grow along with hazardous mold if your efforts fail to thoroughly remove the moisture.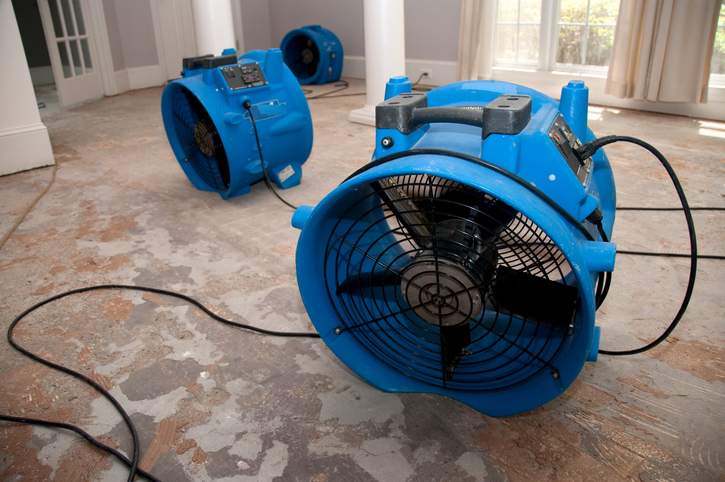 Remediation, Removal & Cleanup
Trash and debris must be removed. Structure and contents thoroughly decontaminated, cleaned and sanitized. Abbotts restoration professionals are equipped with the right knowledge and the proper equipment to clean up after water damage.
Depending on the nature and scope of the damage, specialized content restoration staff perform detailed and exhaustive room-by-room inventory.   If necessary, we carefully pack everything up and transport it to our warehouse where it is inspected. Non-salvageable items are documented for insurance reimbursement; salvageable items are cleaned and restored. We securely store your contents in our warehouse until your structural restoration is complete. Then we carefully transport them back to you and unpack them.
We understand how frustrating it can be to navigate the complexities of property restoration. Most property owners only have to experience this once in their lifetime. Unfortunately, this puts you at a disadvantage when dealing with the insurance company. As experts in damage restoration we know all the little things that can easily be missed or overlooked – and they can really add up! Fortunately, we can help even the playing field for you. We manage your claim and negotiate for you. Our extensive experience working with insurance companies on behalf of property owners ensures that you get the most out of your insurance policy.
Damage not covered by insurance? Ask about our Relief Discount. 303-975-4000.
The final phase is to get the damaged areas put back together as quickly as possible. From carpet replacement to drywall and painting, from hardwood floor restoration to furniture restoration, our team of professionals does it all. We work with closely with you and your insurance company to get you back to normal as quickly as possible. Finally, your satisfaction is guaranteed. We stand behind our work with a one year warranty.
DAMAGE NOT COVERED BY INSURANCE?
We have financing options available.
Ask about our relief discount, too!
LEARN MORE
We're not happy until you're happy!
Helping more than 1200 customers each year, we treat each one like family.
IT'S NOT JUST A JOB. IT'S OUR MISSION!
We'll be there when you need us.
We are Denver-based, locally-owned business with three generations of disaster restoration professionals backed by more than 65 years of industry experience. Certified by the Institute of Inspection, Cleaning and Restoration Certification, we keep up with the latest disaster restoration knowledge and employ industry association recommended practices. The help you need when you need it!
We restore more than 1200 properties each year ranging from one room to large commercial buildings and apartments. Certified staff, a comprehensive fleet of emergency response vehicles and a vast array of equipment ensures that we can respond, assess, plan and deploy resources to mitigate loss, protect property and ensure safety. We'll be there when you need us!
Disaster impacts more than property and possessions. It's emotional, too. We understand what you are going through. We assist with practical matters of mitigation and repair as well as coordinating with insurance adjusters. We get you back to normal as quickly and painlessly as possible. Helping people and property recover: it's not just a job. It's our mission!